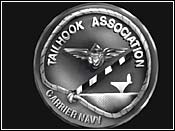 TAILHOOK INCIDENT
1992
WHEREAS, at the Tailhook Association convention in September 1991, Navy aviators surrounded unsuspecting female guests, including 14 female Navy officers, and passed them down a gauntlet, grabbing at their breasts and buttocks, attempting to strip off their clothes, and jeering and taunting; and
WHEREAS, the publicity surrounding the Tailhook Association incident reveals an attitude of contempt toward women held by many military men and tolerated by much of the military leadership; and
WHEREAS this practice has occurred since 1986 with the knowledge of senior military leaders; and
WHEREAS, military leaders did not take the women's reports of the incident seriously and the perpetrators and others aware of the incident obstructed the investigation; and
WHEREAS, high-ranking officers have long been aware of the pervasive nature of sexual harassment of military women as evidenced by a Department of Defense report showing that in a single year 64% of all military women had experienced some form of sexual harassment, but yet these leaders have given little more than lip service toward addressing the problem; and
WHEREAS, a primary purpose of sexual harassment in the military, as elsewhere, is to ensure that men will not have to compete on fair terms with women; and
WHEREAS, the combat exclusion policies, by precluding women from the core functions of the military, define women as marginal service members, thereby fostering sexual harassment and denying women their right to full citizenship;
THEREFORE BE IT RESOLVED, that the National Organization for Women denounce the Tailhook incident and the subsequent handling of the investigation as contemptible, and demand a thorough and objective investigation, together with full enforcement of DoD policies against sexual harassment and the appropriate articles of the Uniform Code of Military Justice; and
BE IT FURTHER RESOLVED, that NOW again call on Congress, the President, and DoD to repeal the combat exclusion law and all combat exclusion policies and immediately begin full integration of women into all positions in the Armed Forces; and
BE IT FURTHER RESOLVED, that NOW commend Lt. Paula Coughlin and others like her for their remarkable courage in speaking out about the victimization of women in the Tailhook incident.
This policy was adopted by the NOW National Conference in 1992.
Pentagon Blasts Tailhook Probe, Two Admirals Resign
By Melissa Healy
Los Angeles Times
WASHINGTON
The Navy conducted a poorly coordinated, half-hearted investigation into sexual assault allegations stemming from the 1991 Tailhook convention, and did so under the direction of an admiral who apparently doubted that women belonged in the military, Pentagon investigators said Thursday in their first major report on the scandal.
The report, released at a press conference by Acting Navy Secretary Sean O'Keefe, criticized three naval officers and the Navy's second-highest ranking civilian for their roles overseeing an investigation hobbled by bad planning, a narrow focus on lower-level officers and an overweening concern for the Navy's reputation.
As naval investigators turned up evidence of infractions other than sexual assault, the officials managing the effort failed to widen their probe, the Department of Defense's Inspector General, Derek J. Vander Schaaf, concluded. And despite continued prodding from colleagues, the admiral in charge of the Naval Investigative Service refused to allow interviews of senior officers, even after it became clear some had witnessed improper acts and failed to intervene.
As expected, O'Keefe accepted the resignations of two admirals cited in the report, Rear Adm. Duvall M. Williams, Jr. and Rear Adm. John E. Gordon. A third admiral, Rear Adm. George W. Davis VI, came in for less stringent criticism and has been reassigned from his position as Naval inspector general.
But in a surprise move, O'Keefe said that he continues to have "complete confidence" in Navy Under Secretary J. Daniel Howard, and has decided to keep him on as the Navy's second-in-command, despite the inspector general's finding that Howard failed completely to take control of the investigation.
O'Keefe also announced the reorganization of the Navy's investigative services to streamline their mission and put them under closer supervision from top civilian authority.
Release of the findings Thursday set the stage for the next turn in the Tailhook saga -- a report that will reconstruct details of what happened last September at the infamous Las Vegas convention, and who did what.
While that report is certain to include more sensational details, the one issued Thursday in many ways provides more insight into the atmosphere and attitudes many believe led to the incidents at Tailhook.
Williams, commander of the naval investigative service and the officer who most directly oversaw the investigation, repeatedly expressed desire to end the probe and on one occasion, told a Navy civilian that he did not believe women belong in military service, according to the report.
On another occasion, the report said, Williams told assistant Secretary of the Navy Barbara S. Pope words to the effect that "a lot of female Navy pilots are go-go dancers, topless dancers or hookers."
Speaking to a junior naval investigator, Williams at one point observed that a female officer who had come forward with complaints had used profane language in describing her alleged assault. "Any women who would use the F-word on a regular basis would welcome this type of activity," the female investigator quoted Williams as saying.
Davis, the naval inspector general whose task was to investigate non-criminal aspects of the scandal, told Department of Defense investigators that he did not interview senior officials who attended the convention, or identify individuals for disciplinary action, because such actions would be perceived as a "witch hunt."
Williams' comments, Vander Schaaf concluded, "demonstrated an attitude that should have caused an examination of his suitability to conduct the investigation." Vander Schaaf indicated Davis was willing to excuse officers' tolerance for sexual misconduct by arguing that Navy culture had been indulgent toward such behavior in the past.
"While it is easy to be sympathetic to the attitude ... it must ultimately be rejected," the report said. "The time for attributing misconduct of that nature to a `cultural problem' had long since passed."
In introducing the report, O'Keefe declared tolerance for such attitudes a thing of the past.
"We get it," O'Keefe said. "We know that the larger issue is a cultural problem which has allowed demeaning behavior and attitudes towards women to exist within the Navy Department. Our senior leadership is totally committed to confronting this problem and demonstrating that sexual harassment will not be tolerated. Those who don't get the message will be driven from our ranks."
At the same time, O'Keefe defended the Navy's progress in addressing sexual harassment problems and its ability to investigate future complaints of sexual impropriety in its ranks. Several lawmakers have proposed stripping the Navy and the other armed services of their role in probing sexual molestation cases.
Williams and Gordon both disputed the report. Williams called it "fundamentally unfair that I could be tried, convicted and sentenced ... without due process in a report containing so many inaccuracies and distortions."
Gordon, who was out of the country at the time those reports were completed, told The Los Angeles Times on Thursday, the Pentagon investigation "is flawed and factually incorrect. In the coming days, I will do everything I can to set the record straight."
Copyright 1992 by The Tech. All rights reserved.
This story was published on Friday, September 25, 1992.
Volume 112, Number 44
The story was printed on page 2.
This article may be freely distributed electronically, provided it is distributed in its entirety and includes this notice, but may not be reprinted without the express written permission of The Tech. Write to archive@the-tech.mit.edu for additional details.
August 2, 1992
The Military Has a Lot To Learn About Women
By ERIC SCHMITT
As revelations about sexual misconduct in the armed forces continue to emerge in the wake of the Tailhook Association scandal, officials find themselves not only struggling with practical problems of how to integrate women into their ranks, but with a deeper military-culture dilemma: how to teach sensitivity to trained killers. After years of instruction about how to be aggressive and violent under extraordinary combat conditions, these men are under new pressure to check their behavior around women and keep sexually offensive comments to themselves.
"Until Tailhook, we dealt too often with sexual harassment at the local level, one case at a time, rather than understanding it as a cultural issue," Adm. Frank B. Kelso 2d, the Chief of Naval Operations, told a hearing of the House Armed Services Committee last week.
The assaults on 26 women, including 14 female officers, at last year's convention of the naval aviators is the military's most serious incident of sexual misconduct. But the publicity has emboldened other women to come forward. The Army is investigating reports that dozens of female soldiers were assaulted in Saudi Arabia by Army men during the Persian Gulf war. The head of an Air Force fighter wing in South Korea recently was relieved of his command for making a derogatory remark to a female officer.
Changing behavior is challenging enough; changing attitudes is even harder. Brig. Gen. Thomas C. Jones, the Army's director of human resources, says views about women are difficult to alter with 80,000 to 90,000 recruits entering the Army each year: "They bring with them 17 or 18 years worth of attitudes and prejudices, some of which are not compatible to be in ready, cohesive forces."
Field commanders agree that units whose leaders do not send a strong message that sexual harassment will not be tolerated, or that only have a token number of women, are vulnerable to the greatest problems. But they have also revived the debate about whether women should be excluded from combat.
Many female officers and military experts argue that as long as women cannot have combat jobs -- infantry, armor, artillery, fighter jets -- they will always suffer a second-class status that invites harassment. Some Pentagon officials retort that integrating women into all-male combat forces will "undermine unit cohesion." Last year Congress repealed the final laws that barred women from combat, leaving the decision up to the services. But the Pentagon has delayed judgment, pending the report of a special Presidential commission.
Echoes of Racial Bias
But "undermining unit cohesion" has an echo nearly 40 years old, when it was used by opponents of racial integration of the armed forces. Conditions leading up to the crises about integrating blacks and women into the military bear striking similarities.
In 1948 President Harry S. Truman ordered the armed forces to be integrated. Twenty years later, during the Vietnam War, the number of blacks in the military had risen dramatically, and racial problems were plaguing the services and eroding combat effectiveness.
The growing problem, coming as a long, difficult war was being fought, was a wake-up call.
The Pentagon opened the Defense Race Relations Institute at Patrick Air Force Base, Fla., in the early 1970's. The Army gave racial sensitivity courses to senior sergeants. The Navy, under Adm. Elmo Zumwalt, created stiff new rules against racial bias and ordered senior officers to uphold them or be dismissed.
Women's experience in the military has been similarly rough. Women, like blacks, had long served in their own distinct units, and integration did not begin on a grand scale until the establishment of the all-volunteer military in 1973. It also took women about 20 years to make a significant impact; now they represent about 11 percent of all American armed forces.
The Persian Gulf war was the first major test of the integration of women, and it was one which they resoundingly passed. But concurrent with that success has come a heightened awareness of sexual harassment. The military is only now realizing the magnitude of the problem as well as its threat to the main combat mission.
Sensitivity Training
Other countries have experimented with different roles for women in the military. Israel allowed them to fight alongside men in its War of Independence in 1948, but has since sharply restricted them to support roles. Since Canada opened all combat positions, except submarines, to women in 1989, the results have been mixed. Few women choose to join infantry or armor units, and only a handful have passed a grueling 10-week basic training course.
American female officers and enlisted personnel maintain that several barriers and biases must still be overcome, but that the climate for women in the military is steadily improving.
"When I came into basic training 11 years ago, it was: 'Female, do this. Female, do that," said Sgt. 1st Class Teresa Blount, 31 years old, an 11-year Army veteran who is a re-enlistment officer at Fort Bragg, N.C. "They don't do that anymore."
Each of the services has reaffirmed commitments to "zero tolerance" policies toward sexual harassment. Army equal opportunity officers, for example, give one-hour sensitivity courses to all troops once every three months.
Lieut. Brenda Holdener, a 31-year-old Navy helicopter pilot who ferried supplies to United States ships in the Red Sea during the Persian Gulf war, said that "We're not without the guys who don't want us there, but that just makes women work harder and want to be there."
Many military women are optimistic that the uproar may open opportunities for them and tear down the biases they believe foster harassment. But only a prolonged commitment by political and military leaders to make those cultural shifts will result in permanent changes.
FROM: The New York Times Book Review
The New York Times on the Web
Copyright 1997 The New York Times Company
---
Defendants: Las Vegas Hilton and Hilton Hotels Corporation
Charges: That Hilton Hotel failed to provide the necessary security that would have prevented the sexual harassment and assault on Lt. Paula Coughlin and many others.
Defense Lawyer: Eugene Walt
Lawyer for the Plaintiff: Dennis Schoville
Judge: Philip M. Pro
Place: Las Vegas, Nevada
Date of Decision: October 24, 1994
Verdict: Guilty of negligence; Coughlin was initially awarded $6.7 million in compensatory and punitive damages; it was later reduced to $5.2 million.
Significance: Coughlin's action forced the Navy to recognize the continual sexual harassment, rape, and assaults that women in the Navy had been enduring but that the Navy had ignored or hushed up. The other military organizations likewise sat up and took notice — a long overdue first step in rectifying a shameful situation.
In 1993, Lt. Paula Coughlin must have thought she had the world on a string. She was an admiral's aide, and what was more important to her, a helicopter pilot. She thought of the Navy as an extended family and looked forward to attending the annual Tailhook Association convention at the Hilton in Las Vegas, Nevada.
Coughlin might have been aware that "wild partying" went on in some areas during the convention. However, secure in her status as "one of the boys," she was in no way prepared for what happened to her in the third floor hallway of the Hilton. As she stepped off the elevator, she saw a drunken crowd of men. Despite her outraged protests, and amid shouts of "woman on deck" and "admiral's aide," she was forced to run a gauntlet of officers who grabbed at her breasts, her crotch and buttocks, and attempted to tear her clothes from her body.
Officers and Gentlemen
Coughlin was not alone. As a later investigation showed, many others — male and female — had suffered similar indignities at the hands of these "officers and gentlemen." Also devastating to Coughlin was that her boss, Admiral John W. Snyder, dismissed her complaint with a wave of his hand, remarking, "That's what you get when you go on the third deck full of drunk aviators."
Coughlin, deciding that it was not what she deserved, filed formal charges through regular Navy channels but as time wore on and nothing seemed to be happening, she "went public." Seven months later, the Naval Investigative Service (NIS) and the Navy Inspector General delivered their initial reports, describing in excruciating detail what had happened. By February 1994, they had investigated 140 cases of misconduct.
Congress designates officers as "gentlemen," a classification requiring certain behaviors and prohibiting others. However, the descriptions of the orgy and debauchery that had gone on was enough to raise eyebrows above the hairline. While some of the women were there willingly, there were 80 to 90 victims — including six officers' wives — who were not. Secretary of the Navy H. Lawrence Garrett, III, immediately ordered the Navy and Marine Corps to begin disciplinary action against some seventy officers. Over 50 were implicated in forcing women to run the "gauntlet" and six were accused of blocking the investigation.
From the Top
In the military, "chain of command" means that those at the top are responsible for everything that goes on below them in their commands — right down to the lowest-rated sailor or soldier. There were many flag officers — admirals and generals — present at the Tailhook Convention who could and should have called a halt to the out-of-hand "partying" — including the chief of Naval Operations, Frank Kelso, as well as Navy Secretary Garrett.
Both men claimed that neither of them had seen anything "untoward" or had been anywhere near the scenes of the indecent "partying." Nevertheless, witnesses later placed both men near the infamous third floor, where the "gauntlet" had taken place. This caused Garrett's immediate resignation (without a thank you from President George Bush) and a humiliating struggle in the Senate over Kelso's early retirement. By a 54 to 43 vote, the Senate allowed Kelso to retire with his four stars in 1994.
The sad irony was that Admiral Kelso was known as a "gentleman of the old school" and both he and Garrett had spent some of their time in office trying to formulate ways of improving the status of women in the military and discouraging sexual harassment. Kelso also tried to open up more opportunities for women in the Navy. For example, in 1992, Kelso had urged the Senate Armed Services Committee to permit women to fly combat aircraft — a big step forward for ambitious women pilots in the military. In 1994, the Navy — perhaps shamed into the decision by the Tailhook debacle — agreed to allow women to serve on combat ships. The U.S.S Dwight D. Eisenhower — a carrier — was the first to be outfitted to accommodate the incoming women.
The Fallout
The fallout was blunt and to the point. Coughlin's boss, Snyder, was relieved of duty for ignoring his subordinate's complaints, putting an end to his career. Three admirals were censured (which also meant, most probably, the end of their careers) for failing to prevent or stop the misbehavior of the junior officers at the convention. Thirty other admirals received letters of caution to be placed in their permanent records. Nearly 40 lower ranking senior officers (captains and commanders in the Navy; colonels in the Marine Corp) were fined or otherwise disciplined with letters of censure or reprimand — putting a probable end to their careers as well.
Most of the junior officers escaped relatively unscathed. Although 117 officers were "implicated in one or more incidents of indecent assault, indecent exposure, conduct unbecoming an officer, or failure to act in a proper leadership capacity," not one was ultimately court-martialed or otherwise brought to public account. On the other hand, seven lieutenants, two junior-grade lieutenants and one lieutenant commander — all remained unidentified — were issued letters of admonition and each was docked $1,000 from their pay.
Unfortunately, some officers were unfairly caught in the cross-fire. One commander, the officer in charge of the Navy's Blue Angels, was denied promotion in 1995. Although he had been initially approved, a Senate committee and Navy Secretary John Dalton changed their minds after discovering that the officer had been in the area when the Tailhook scandal occurred. He had indeed been in Las Vegas during the crucial time, but he went there to receive an award and had been cleared by a Navy court of inquiry of any misconduct. Whether he will be promoted eventually has yet to be decided.
Even though Coughlin was able to identify her main assaulter, there were no corroborating witnesses willing to testify. In addition, in a pre-trial hearing, the accused's lawyer produced a picture of the man — alledgedly taken at the time of the Tailhook incident — in different clothing than Coughlin had described, and so the Marine general acting as judge dismissed the case. In addition, apparently all the officers interviewed either lied outright, "couldn't remember" due to overconsumption of alcohol, or they stonewalled, refusing to speak about anything that had happened or to implicate anyone. So in the end, the investigation ground to a halt with not one of the actual perpetrators held accountable for what they had done.
Coughlin v. Las Vegas Hilton
As a consequence, Coughlin (and six of the other victims) sued the Tailhook Association and the Las Vegas Hilton Hotel — and its corporation — for failing to provide the proper security for guests. The Tailhook Association settled with Coughlin before trial for $400,000 — and with six other women who likewise had sued charging sexual assault. They settled for an undisclosed amount, though their lawyers did admit to a sum in six figures for each victim.
After seven weeks of testimony, the jury awarded Coughlin $1.7 million in compensatory damages for emotional distress and $5 million in punitive damages. Judge Philip M. Pro later reduced the total amount. He deducted the Tailhook settlement from the $1.7 million compensatory damage and cut back the punitive damages to $3.9 million because Nevada law limited punitive damages to three times the compensatory damages.
The next chief of Naval Operations, the late Michael Boorda, who took over from Kelso when he retired in April 1995, had attempted to help Coughlin by transferring her to his office while he was still head of Naval Personnel. Nevertheless, hounded by hate mail, and emotionally exhausted, Coughlin resigned from the Navy in February 1995. As of May 1995, the Hilton Hotels Corporation appealed the judgment and sought a new trial, so the story is not over.
For Further Reading
Army Times Publications, August 16, 1994.
Glamour, November 1994.
Ladies Home Journal, November 1992.
Navy Times, August 22, 1994.
New York Times, June 14 and 17, 1992; October 22, 1993; March 13, 1995; May 12, 1995; and June 23, 1995.
Time, February 21, 1994; and May 2, 1994.

Source: Women's Rights on Trial,
Gale Group Inc. All Rights Reserved.
02-11-94
Tailhook accuser will resign from Navy
NORFOLK, Va.--The woman who blew the whistle on the Tailhook sex scandal is resigning, the Navy said Thursday. No reason for Lt. Paula Coughlin's resignation was given, but CBS and NBC reported she was quitting because of continued harassment over Tailhook.
"I don't know the reasons," said Lt. Susan Haeg, a spokesperson for the Navy's Atlantic Fleet in Norfolk, where Ms. Coughlin is assigned to a helicopter combat support unit.
NBC News and CBS News, which obtained copies of her letter of resignation, said Ms. Coughlin cited her Tailhook assault and continuing abuse since she made it public as the reasons for leaving.
Also Thursday, a Navy source told The Associated Press that the admiral overseeing punishments stemming from the Tailhook convention is likely to accept a judge's dismissal of the last three cases.
Vice Adm. J. Paul Reason probably will not appeal Capt. William T. Vest Jr.'s ruling but has not made a final decision, the source, who is close to Reason, said.
Gender Politics
By Frances K. Pohl
FROM: http://users.erols.com/jkammer/tailhook.html
Recovering from a Tailspin
by Jack Kammer
Published in Reason Magazine, January 1994
Virginia Postrel, editor
Navy Secretary John Dalton was right -- although for the wrong reasons -- when he alleged in October that Admiral Frank Kelso was culpable for a "failure of leadership" in the Tailhook mess. Defense Secretary Les Aspin was right -- also for the wrong reasons -- to reject Dalton's recommendation that the chief of naval operations be fired for his shortcomings. Kelso's main failure was not in allowing Tailhook to happen, as Dalton charged, but in allowing it -- and the entire future of the Navy -- to be spun out of his control. Unless scapegoating is our aim, we must recognize that no one in the chain of command, from Presidents Bush and Clinton on down, has yet correctly identified what Kelso should have or could have done.
Blaming Kelso for Tailhook is like blaming a ship's captain for running aground in a storm after being sent where his superiors insisted, but only hoped, that the waters would be calm and deep. The issue of women in the military is not a tempest in a teapot. Once he was beached by the swirling currents of Typhoon Tailhook, Kelso should have had the courage to defend his ship against those who stormed aboard, insisting that they obviously knew how to run it better than he. It is, after all, not clear that the best interests of the Navy, rather than of themselves, is the boarding party's chief concern.
The raiders' primary motivation may have been to shame the Navy into capitulating to their demands for hastily expanding military roles for women. Indeed, the sexual shaming of men had been used effectively for similar purposes at least once before, in an incident involving the Naval Academy.
On May 28, 1990 the National Organization for Women picketed in Annapolis to register its unhappiness over reports that upperclassmen had chained a female first-year student named Gwen Dreyer to a urinal. But the protesters were countered by other female midshipmen, one of whom revealed that the incident was "not a matter of gender, it's a part of life here." Furthermore, this young woman told the Baltimore Sun in reports published the next day, she had participated in the hazing of females, and during the week before the 1989 Army-Navy football game, she had "helped to strip, tar and feather a West Point cadet." She also said that female midshipmen were involved in handcuffing Dreyer to the urinal. Another female middie told the NOW picketers, "There is no way you have of knowing the truth... you don't know what the norm is... you are doing a lot of damage." A third Academy woman, possibly referring to the Annapolis newspaper's banner headline ("Tormented female mid resigns") and subhead ("Woman handcuffed to toilet, taunted"), told the demonstrators that misunderstandings fueled by "yellow journalism" were "causing damage and hurting a lot of good people here."
All of this explanation and context notwithstanding, the NOW members, in a preview of strange things to come, continued to demand that the men -- but not the women -- involved in Dreyer's handcuffing "should be forced to go through sensitivity training and their graduation should be deferred until they understand what they have done."
On May 30, 1990, the Washington Post, like the Sun, reported the Dreyer incident with appropriate balance and perspective: "In interviews, several midshipmen said that although what happened to Dreyer was unusual because the men who handcuffed her were of a higher rank, it was not extremely different from common occurrences. For example, they said that upperclassmen are often tied to chairs and put outside or have their heads put in toilets as retaliation by plebes they command. They also doubt Dreyer was targeted because she is a woman, but instead think the episode, while wrong, grew out of Dreyer's involvement in a spirited snowball fight."
Less than two months later, though, the Dreyer story was spinning like a gyroscope pointing to some feminists' idea of true north. By July 19, 1990, the Washington Post had honed the story to its everlasting, male-shaming essence: "Dreyer was chained to a urinal in a men's room before a jeering crowd of her male classmates."
Syndicated columnist Mary McGrory took Navy-shaming to sarcastic, new lows when, in criticizing the Dreyer affair, she made gratuitous reference to an errant Iraqi missile that killed American Navy men in the Persian Gulf. "The trouble at Annapolis," she wrote, "goes deep: insecure men, feeling threatened by bright women excused from combat; a service-wide identity crisis caused by the fact that its ships have become little more than targets for Exocet missiles."
Reeling from the bad press and political pressure, the Academy cooperated with the formation of a civilian Committee on Women's Issues. Committee member Barbara Mikulski, the senator from Maryland, soon opined, "What we need to work on at the United States Naval Academy is an attitude change." (Notice the subtle attempt to denigrate the way men feel. Instead of referring to men's feelings, thoughts, fears, ideas, principles, questions or reservations, Mikulski dismisses them as "attitudes," clearly implying that they are backward and in need of immediate and forcible correction.) Another committee member, Maryland congressional representative Helen Bentley, announced, "We cannot guarantee there will not be incidents in the future, but what we must guarantee is that there will be zero tolerance for such incidents." The committee made far-reaching demands, one of which was nothing short of totalitarian: "the immediate dismissal of senior officers who question the role of women in the military."
And what was the response of Navy leadership? The superintendent of the academy pledged speedy adoption of the committee's "recommendations."
Tailhook followed a similar pattern. It was, first and foremost, a spirited bacchanalia in which both women and men joyfully, willingly participated. On this point, the Inspector General's Tailhook report is worth quoting at length:
Our investigation revealed that many women freely and knowingly participated in gauntlet activities. A significant number of witnesses reported that women went through the gauntlet and seemed to enjoy the attention and interaction with the aviators. Those witnesses, both men and women, generally stated they could tell the women were enjoying themselves because, despite being grabbed and pushed along through the crowd, they were smiling and giggling. Some of the women were observed going repeatedly through the gauntlet. Many women who went through the gauntlet told us they did so willingly and were not offended by the men touching them. A civilian woman employed by the Navy told us of a conversation she had with another young woman whom she met while on a commercial flight into Las Vegas to attend Tailhook 91. The young woman described the gauntlet and said that, at about 3:00 a.m., things get "real rough" and wild on the third floor. According to the Navy employee, the young woman implied that she enjoyed this type of activity and that was the reason she was going to Tailhook 91.
Furthermore, since standard reportage now has it that "more than eighty women were sexually assaulted and abused" at Tailhook, it is helpful to understand that the definition of sexual assault in connection with the scandal is scandalously broad. For instance, the Inspector General used the word "attacked" to describe what happened to a woman who was goosed on her buttocks "at least twice."
Similarly, it is worth noting that by the IG's own admission, at least five of the 83 female "victims" insisted that they were nothing of the sort:
1) "The victim told us that she did not consider herself a victim of any criminal activity."
2) "The victim told us that, in her opinion, she was not a 'victim' of an assault merely because she [had squadron insignia stickers affixed to her body] without her consent."
3) "The victim felt that she handled the incident and objected to being labeled as a 'victim.'"
4) "[The victim] felt she resolved the situation and does not consider herself to be the victim of an assault, even though the pinch was nonconsensual."
5) "The victim stated that she did not get upset at the incident and did not feel that she was assaulted."
One of these "victims" of "sexual abuse" wrote in a widely distributed letter-to-the-editor (which no editor published), "This Tailhook investigation has been blown severely out of proportion... I thought nothing of the incident and never considered it an assault of any kind."
This is not to deny that some unsuspecting women were caught in activities they understandably found offensive. But after Lt. Paula Coughlin captured the media with her unquestioned, though questionable, claim that she was among the truly unsuspecting and offended ones, women's activists began to spin Tailhook like a top. Following their success with the Dreyer incident, they insisted that the drunken aviators in Las Vegas represented a widespread culture of oppression and hostility toward military women.
How did the Navy defend itself? By hoisting a white flag.
"I need to emphasize a very, very important message -- we get it," Acting Navy Secretary Sean C. O'Keefe told a Pentagon news conference in September 1992. "We know that the larger issue is a cultural problem which has allowed demeaning behavior and attitudes toward women to exist within the Navy Department." A few weeks later O'Keefe announced an eighty-step plan to "enhance professional opportunities for women" in the Navy and to "deal with the culture, environment and attitudes that contribute to sexual harassment and gender bias."
(On the subject of sexual harassment on the one hand and enhancing professional opportunities for women on the other, it is interesting to note that the Government Accounting Office found that the most commonly reported "sexual harassment" of women at the service academies consists of remarks from other cadets that standards have been lowered in order to admit women. Not only is such "sexual harassment" totally devoid of sex, but the GAO finding strongly suggests that the best way to ensure that women achieve equality in the military is to reduce rather than increase special treatment for them. George Orwell would smile knowingly at a system of thought control in which saying "I believe it is essential to treat men and women equally" could be punished as sexual harassment.)
Admiral Kelso, with his crippled ship commandeered by women's activists, succumbed to the Stockholm Syndrome. In his attempt to ensure his own survival, he began to identify with his captors. He ordered, among other steps, a one-day stand down for all hands to be trained about sexual harassment. A female commander in the Navy Reserve told me the training included three videotapes that "cast the typical male service member as a brutish predator who at all times would stare at, look at, and suggest sex to any female in his vicinity. The man looked like a prowling tomcat. No woman ever did anything wrong." The men forced to attend this supposed sensitivity session, she said, were resentful and offended. "They just went blank. There's no avenue for the men to counter this."
Navy men are indeed beginning to resent being shamed for being male. The underground naval aviators' newsletter The Gauntlet, founded in the wake of Tailhook, satirized a speech by Patricia Schroeder, the Colorado congresswoman and influential member of the House Armed Services Committee, which controls military budgets: "I have an idea to prevent [Tailhook] from ever happening again. Whenever a male-child is born in the United States his parents will be enrolled in reeducation classes. They will teach the little heathen, from day one, that he is morally corrupt and an object of scorn."
In contrast to the Navy's beleaguered and increasingly cynical men, women in the service were on the march toward their goal of expanded combat roles. Protected by their powerful ideological allies in Congress and the media whose goal was to see that women are allowed to do what they wish (ramifications and implications being somebody else's problem), military women pressed their agenda with impunity. As Minerva, the feminist quarterly on women in the military, reported, "When the legislation to open combat aviation positions to women was introduced in the Senate and the House, women pilots flew into Washington and, some in full military attire, accompanied the women lobbyists, visiting congressional offices, briefing those who sought to know whether women could 'do the job.'" Lobbying in uniform is supposed to be prohibited. No one, however, dared to enforce that rule. Insisting on equal treatment for women, as we have seen, can be construed as sexual harassment, and merely being accused of sexual harassment can kill a career. (A letter-writer to The Gauntlet told a supposedly true story of a female helicopter pilot whose hair length far exceeded safety regulations. One senior officer turned to another and asked, "Do you want to call her on it?" to which the other replied, "Not me. I've still got a career left in the Navy.")
The big payoff for the activist servicewomen and their ideological comrades came in April 1993 when Les Aspin ordered the armed services to end the ban against female combat pilots and asked Congress to allow women to serve on American navy ships. Barbara Spyridon Pope, chairwoman of an ad hoc committee formed to study women in the Navy after Tailhook 91, said, "All of this grew out of Tailhook. As we looked at assimilation and integration of women, combat exclusions and how we do business, it was clear women had been made to feel like second-class citizens."
O'Keefe's groveling confession and the Navy's virtual capitulation notwithstanding, integrating women into the military will require both sexes to examine their attitudes and behaviors toward each other. Anthropologist Helen Fisher, author of Anatomy of Love, told me last spring, "Neither of the sexes gets it. The mating game is powerful and primitive." She added, "There's a great deal that both sexes need to learn about that. But unfortunately right now all the blame is on men. Sexual harassment is an issue that has been controlled by women."
Those who seek full and immediate integration of women into the armed services often cite the military's success with racial integration as evidence that their goal, though it will be bitterly resisted, is achievable if only the brass will demand it. But we should be careful about too gullibly accepting the assertion that "women and minorities" are similarly situated. There are, after all, no advantages or privileges in traditional American culture for being black. On the other hand, there are huge advantages in being female. We should observe that it is not merely by coincidence that one of women's primary sources of influence over men -- sex -- is precisely the issue in so much male-female contention. Pretending that "men have all the power" and focusing only on changes that must be made in "male culture" and "male attitudes" will not lead us to happier, healthier days.
The leadership challenge facing the Pentagon today is to re-take control of sexual harassment and other so-called "women's issues" from those who are energized by opportunism and ideology more than by a commitment to the military. (This should be especially clear to Aspin, who acknowledged in June that the quality of military recruits has declined since 1991 and that questions surrounding women in combat and sexual harassment might be a cause. "We should not ignore warning signs," Aspin said.) The military must find the courage to say, "Yes, Tailhook was a mess. It clearly demonstrates that sex is a powerful force. But both sexes are sexual. Questions of gender fairness are complex; men and women both think they deserve special treatment. We will deal with these issues. But we will not be bullied. We will not be pushed. Nor will we allow our sailors and soldiers to be shamed."
If Kelso can line up the support of his superiors to take such a stand and pursue such a policy, he can remove the hostile boarding party from his damaged vessel and get the Navy underway proudly again on a course that is fair and respectful of all personnel -- women and men alike -- at a prudent speed into turbulent and uncharted waters.
That would be a triumph of leadership that Aspin and Dalton should both approve.
© 1993 Jack Kammer
FROM: http://www.time.com/time/magazine/archive/1994/940221/940221.scandals.html
February 21, 1994 Volume 143, No. 8
SCANDALS
LOST IN THE FUN HOUSE A Navy judge blasts the Chief of Naval Operations as the last cases in the Tailhook investigations flame out
By RICHARD LACAYO Reported by Bruce van Voorst/Washington
The 1991 convention of the Tailhook Association really must have been a bash. Afterward no one seems to have remembered a thing. For more than two years, there were investigations into claims by 83 women that they were assaulted at the annual hell raiser for Navy and Marine flyers. As many as 200 party animals may have joined in the main offense, a poke-and-grab gauntlet along the third-floor corridor of the Las Vegas Hilton. But not one of the 140 cases under investigation ended in conviction for any of the men whose manners and memory - and maybe their consciences - were lost in the fun house.
Last week the four remaining men charged in Tailhook had their cases shut down with both a bang and a whimper. Captain William T. Vest Jr., a Navy judge presiding over three of the cases, issued an angry pretrial ruling that laid much of the blame at the feet of the Chief of Naval Operations, Admiral Frank B. Kelso II. Vest accused Kelso of using his influence to manipulate the investigation and the subsequent disciplinary process "in a manner designed to shield his personal involvement in Tailhook." Despite Kelso's denials under oath, Vest said there was persuasive evidence, including the testimony of more than a dozen witnesses, that the admiral was at the scene during some of the wildest episodes at Tailhook but never raised a hand to stop them. Since that was the very accusation faced by Kelso's subordinates, Commanders Thomas Miller and Gregory Tritt, Vest dropped the charges against them, as well as an assault charge faced by Lieut. David Samples.
Navy brass could have appealed the ruling and pressed for a trial. That might have spared them the embarrassment of not obtaining a single conviction - if they could stand the embarrassment of pursuing lower-grade officers for crimes their superiors may have winked at. They opted instead to take no further action against the three. A few days earlier, the Marines, citing lack of evidence, dismissed charges of misconduct and obstructing an investigation against Lieut. Colonel Cass D. Howell.
With that, the Tailhook scandal flamed out, leaving only smoke and mirrors behind. In a report issued last April, Pentagon deputy inspector general Derek Vander Schaaf, who was called in to examine the Navy's sluggish probe, concluded that of the nearly 2,400 naval officers interviewed, several hundred had concealed information. "Collective "stonewalling,' " he concluded, "significantly increased the difficulty of the investigation." Some prosecutions ran aground when witnesses had trouble identifying their assailants; in October the Marines dropped all charges against a captain accused of molesting Navy Lieut. Paula Coughlin after it was concluded that she had misidentified her alleged attacker. Coughlin, the first woman to come forward with accusations in the scandal, resigned from the Navy last week, saying the abuse she suffered at Tailhook and "the covert attacks on me that followed have stripped me of my ability to serve." Among other things, she cited a newsletter called the Gauntlet and published by ex-Navy flyers under a pseudonym - "Paul A. Coffin."
Kelso, however, was adamant that he was not leaving, despite Vest's criticisms. Even before arriving at Tailhook, the judge ruled, the admiral should have been primed to head off trouble, given the gathering's reputation for heavy drinking, porn films, strippers and prostitutes "as part of the planned activities in the hospitality suites." But three of Kelso's aides testified under oath that he was nowhere near the third-floor scene of the crime, much less a witness to the alleged assaults. In part because of the conflicting testimony, former Secretary of Defense Les Aspin last year turned down Navy Secretary John Dalton's recommendation that Kelso be removed.
Since Kelso plans to retire in July, he has probably escaped the legal gauntlet of Tailhook with no more than the nonpunitive letter of caution he received last October. About 60 other Navy and Marine officers have been subjected to administrative discipline, a measure that can sometimes short-circuit a career. And the commander of the Naval Investigative Service and the Navy's judge advocate general were relieved of their commands. As for the Tailhook Association, the Navy severed all ties with it and warned service members away from the 1993 convention, which in any case was a tea party. Tailhook's main legacy may be to have shamed the Navy into its decision last year to permit women on combat ships. The carrier Dwight D. Eisenhower is already being reoutfitted to take aboard the first of them. "It's largely due to the Tailhook embarrassment," says Northwestern University professor Charles Moskos, a military sociologist. As with a lot of drunken festivities, maybe the headache that followed will stay in memory more sharply than the party itself.
Copyright 1994 Time Inc. All rights reserved.
3-12-1996
Navy Asks Senate to Promote Tailhook Offenders
On Tuesday (3-12), top Navy officials asked the Senate Armed Services Committee to reverse itself and allow them to promote a pilot involved in the 1991 Tailhook sexual harassment scandal. The committee has not yet made a decision on the request to promote Commander Robert Stumpf, who Navy officials said was wrongly accused of witnessing a lewd act. Stumpf denies seeing the lewd act in which Navy pilots groped women in a hallway, but admitted that he watched part of a stripper's performance at the annual Tailhook Association convention in Las Vegas.
Former committee chair Sam Nunn (D-Ga.) accused the committee of unfairly holing up Stumpf's promotion. While Nunn was chair, the committee put a hold on all Navy and Marine Corps officers until obtaining proof that they were not involved in the Tailhook affair. However, the committee has apparently approved over 43,000 such promotions, 15 of which were given to officers disciplined for Tailhook conduct. Navy Secretary John Dalton and Admiral Mike Boorda, chief of naval operations, asked the committee to drop the remaining holds on promotions for Tailhook offenders, an act that would affect about 25 officers.
[Source: Reuters - March 13, 1996]
FROM: http://www.s-t.com/daily/05-96/05-28-96/a02wn015.htm
Official: Navy being ruined by media, White House
By Jim Abrams, Associated Press writer
WASHINGTON -- The Navy is being damaged by the "gutter reporting" of journalists out to find scandal in the ranks, former Navy Secretary John Lehman says.
The Reagan administration official also condemned the Clinton White House for imposing policies of "political correctness" on the Navy and the Senate Armed Services Committee for impeding the career advancements of officers linked to the 1991 Tailhook sexual assault scandal.
It is "terribly damaging to the very fiber of the Navy as an institution, this continuing attack from so many quarters," Mr. Lehman said Sunday on ABC's "This Week With David Brinkley."
Appearing earlier on the program, Deputy Defense Secretary John White denied that the Navy's combat readiness has suffered because of a string of incidents, including Tailhook, a recent rash of F-14 fighter plane crashes, criminal activities at the Naval Academy and the suicide of the service's top officer, Adm. Jeremy Boorda.
"The Navy is doing well. It is performing its missions around the world," Mr. White said. "At the same time, the society's changing and the Navy's changing, and it's a struggle."
But Mr. Lehman pointed to reports of sexual abuse at the 1991 convention of the Tailhook Association, a support group for naval aviation, as an example where officers were victims of media "character assassination."
Following what should have been a minor story, he said, "14 admirals have been cashiered, 300 naval aviators have been driven out of the Navy or their careers terminated."
Questioned about his own alleged public lewdness at a 1981 Tailhook convention as detailed in a new book, Mr. Lehman didn't deny the story outright. But he called it a "perfect example of the depths that coverage of the Navy has fallen to."
"Every Navy leader of recent times and now every senior admiral has been subjected to this kind of gutter reporting," he contended.
Mr. Lehman compared Adm. Boorda's suicide to the 1949 death of Defense Secretary James Forrestal, who became depressed by what he considered unfair attacks on his policies and jumped from a window two months after resigning his post.
Mr. Lehman said the Senate Armed Services Committee, led by such friends of the military as Sen. Strom Thurmond, R-S.C., had stood by while the careers of more than 300 naval personnel were being ruined, and was now holding up the promotions of another 90 naval aviators linked to Tailhook. "And not one of (the committee members) stood up and said, 'Enough."'
But Rep. Pat Schroeder, D-Colo., a senior member of the House National Security Committee, said the Navy was to blame for not adjusting quickly enough to changes in American society.
The service had "a different attitude for a long time about what sailors do when they go ashore or what they could do at Tailhook, and so forth," she said. "So for a long time, people kind of turned the other way and said, 'Well, that's a way they relieve stress.'"
On the discipline and crime problems at the Naval Academy in Annapolis, Md., Mr. Lehman said they are no worse than at the other service academies. But he said the academy suffered because it is only a 40-minute drive from Washington, making it more accessible to reporters looking for a story.
07-06
FROM: http://www.spectator.org/archives/96-07_corry.html
ADMIRAL BOORDA COMMITS SUICIDE
GOING OVER BOORDA
Why was everyone so quick to dismiss the part lost honor played in Admiral Boorda's tragic death?
by John Corry
Admiral Jeremy Boorda's suicide left the press baffled, and even embarrassed. It could not believe Boorda had taken his life because he had worn two tiny V's on his chest, and now was being threatened with exposure because he had not been entitled to wear them. As the cause of suicide, that would not do, even though Boorda had killed himself just before he was to meet with two Newsweek reporters who were persuaded of his deception. He also had left behind him a note to "the Sailors" in which he alluded to his disgrace. The press focused on the narrow question of whether protocol had allowed Boorda to wear the V's or not, but in fact that missed the point. A better question was how Boorda felt about himself. Did he think he had lost his honor?
That question, though, was beyond media imagination. As the New York Times eventually said in a brief editorial, Boorda was a "hero." The heroism, however, was only vaguely defined, and it was obvious the Times was uncomfortable. Boorda had killed himself on a Thursday, but the editorial did not appear until Tuesday. Times columnists had also been silent. No op-ed pieces or letters to the editor about Boorda were published, either. The suicide of the chief of naval operations raised issues the Times was unable to ponder. The paper has been feminized to a remarkable degree, and it often seems to be edited now by, and for, Smith College juniors.
Thus the story on Monday, the day Boorda was buried; it said he had died because of Tailhook. Tailhook, it declared, was "a vicious bacchanal," and it had left a "climate of scandal and shame." So terrible were Tailhook's sins that the Times felt compelled to reprise them. The story recalled "the alcohol-soaked hallway" in which "scores of women were assaulted by drunken sailors." For the sailors, the assaults are "nothing but an alcohol-stained blur," but for the women "who were molested or otherwise assaulted, the memories are as clear as the warm desert air over Las Vegas." Then the Times described "the now-infamous gauntlet" -- "drunken naval aviators ... lifting women, including women sailors, into the air and molesting them as they were passed from man to man." Then a final prurient touch: A "drunken teen-aged girl had her clothes torn off ... and was left half naked and semiconscious in a corner."
Boorda, the story suggested, was haunted by these scenes of depravity; his suicide was an act of atonement. Tailhook took place almost five years ago, but it still consumes Times editors as much as it does Pat Schroeder. Nothing is allowed to minimize the enormity of its crime. The Times did not report the astonishing speech by James Webb, the former secretary of the Navy, in which he castigated Boorda only weeks before he killed himself. The Times refused to mention it even when it reflected on his death. Feminist orthodoxy was still upheld.
Webb spoke at the Naval Academy before the brigade of midshipmen, various admirals, and Pentagon officials. Tailhook was much on his mind. The Washington Times and the Baltimore Sun covered the speech. The Washington Post caught up to it with an op-ed piece. Network news programs ignored it. Generally speaking, their orthodoxy matches that of the New York Times.
Webb did not mention Boorda by name, but in what later became the most widely cited part of the speech, he accused him, as chief of naval operations, of placing politics over principle. Webb said:
When one of the finest candidates for Commander in Chief of the Pacific in recent times, a man who flew more than 500 combat missions in Vietnam, and then in the Gulf War commanded the largest naval armada since World War II, is ordered into early retirement by the Chief of Naval Operations because one senator asked on behalf of a constituent why Stan Arthur as Vice Chief of Naval Operations had simply approved a report upholding a decision to wash out a female officer from flight school, who expressed their outrage? Who fought this? Who condemned it? When a whole generation of officers is asked to accept ... the destruction of the careers of some of the finest aviators in the Navy based on hearsay, unsubstantiated allegations, in some cases after a full repudiation of anonymous charges ... what admiral has had the courage to risk his own career by putting his stars on the table, and defending the integrity of the process and of its people?
Webb ended with this peroration:
If the Navy is to regain its soul and its respect, the answer lies in the right kind of leaders. Leaders who understand that the seemingly arcane concepts of tradition, loyalty, discipline and moral courage have carried the Navy through cyclical turbulence in peace and war. Leaders who are imbued with a solemn duty to preserve sacrosanct ideals and pass them on to succeeding generations ... It is time to give the Navy back to such leaders.
The midshipmen cheered. The admirals and Pentagon officials were angry. A murmur went through the Navy. The charges were not new. They had been circulating for a while, but they had never been raised in so public and dramatic a fashion. Admiral Arthur was only one of hundreds of officers whose careers have been sacrificed to appease angry feminists. Only the most spectacular cases, however, get reported in the press, and they are often accompanied by a suggestion that the punishment is appropriate for the crime.
The dismissal of Admiral Richard Mackie as Pacific commander, for example, was widely approved. After three marines abducted and raped a 12-year-old Okinawan girl, Mackie said, carelessly, if not incorrectly, "For the price they paid to rent the car, they could have had a girl." Within hours after the remark was reported, he was sacked by the sensitive Secretary of Defense William Perry. "We decided that his lapse of judgment was so serious that he would be unable to perform effectively his duties as Commander in Chief of U.S. forces in the Pacific," Perry said. Exactly why the lapse in judgment rendered Mackie unfit for command was not clear, but Pat Schroeder had called it "the biggest outrage I've seen in a while," and presumably that was enough. The Times reported that Congresswoman Schroeder had criticized Mackie for thinking that "Boys will be boys -- the view that women are just commodities."
He had not said, or necessarily thought, anything like that, of course, but no matter. A month after Mackie was dismissed, Admiral Ralph Tindall, the deputy commander of NATO forces in Spain and Portugal, was forced into early retirement after confessing to an adulterous relationship with a female subordinate. She had claimed sexual harassment. The Times reported that "the Navy has deluged sailors and officers with books and seminars to help them prevent sexual harassment ... but the Tindall case is a disheartening sign that even at the highest levels, the message has not got through."
What had not got through to the Times, though, was an entirely different message: The bipartisan fear of feminist displeasure has led to a long series of incidents that have crippled naval morale. In Admiral Stan Arthur's case, Republican Sen. David Durenberger had demanded to know why Arthur had approved the request to ground the female pilot. As Webb pointed out, Boorda had responded by withdrawing Arthur's nomination to the Pacific command, and forcing him into early retirement.
Boorda later called this the biggest mistake he ever made as chief of naval operations. Nonetheless, he also seemed to know it was wrong at the time. "Certainly Stan Arthur is paying a penalty, and the country is paying a penalty," he said in an interview then. "He's not serving in a job where he would have been superb."
But if Boorda knew it was wrong, why did he do it? In Fall From Glory, a lip-smacking account of the Navy's supposed war against women, Newsweek reporter Gregory Vistica writes that when Boorda was in charge of the Bureau of Personnel, he "was viewed within the Navy as a political chameleon who could cut a political deal without leaving any fingerprints." Boorda was a very political admiral. The secretary of defense, the secretary of the Navy ("I feel good about the decisions we've made," the feckless secretary, John Dalton, recently told George Will), the chairman of the Joint Chiefs, and the chairman of the Senate Armed Services Committee were also ready to sack Admiral Arthur. Whatever his reservations, it would have been out of character for Boorda to disagree. He was a man who went along.
That was evident as soon as he became chief of naval operations. If he had any reservations about putting women in combat roles, he kept them to himself. He said he wanted women to fly fighter planes. He also said he wanted to put women on all ships in the Navy, even submarines. The dirty secret of naval life is that women have no real place there, but Boorda did his best to ignore it. In death he was eulogized as a "sailors' sailor" -- the columnist Richard Grenier says Perry plucked the phrase from a news story -- but he was not popular among the mid-level ranks, and aviators, in particular, seemed to despise him. As Webb pointed out in his speech, last year 53 percent of the post-command commanders in naval aviation-officers awaiting promotion to captain-retired or otherwise left the service. Webb called them "the cream, the very future of the Navy, officers who had performed for two decades in a manner that marked them as future admirals." The number had never reached as high as 25 percent in any other year.
What was on Boorda's mind during all this? Obviously we will never know. He did leave the note to "the sailors," but apparently the Navy does not want it released. It is not hard to imagine him brooding, though, about the combat decorations he did not seem to have earned. Civilians may not understand-even a Wall Street Journal editorial began, "We say 'nuts' to the medals teapot" -- but among warriors the decorations mean something. Few naval officers would admit it to the press, but there were those of them, particularly among the aviators, who thought Boorda took the honorable way out.
John Corry is The American Spectator's senior correspondent.
© 1996 The American Spectator. All rights reserved.
11-14-96
ARMY IMPLICATED IN SEXUAL HARASSMENT TOO
FROM: http://www.pub.umich.edu/daily/1996/nov/11-14-96/edit/ed02.html
Military attacks: Armed services must end harassment
Recently, the U.S. Army filed charges against five military trainers at the Aberdeen Proving Ground, a preparatory facility near Baltimore, Md. The men faced accusations of sexually harassing at least a dozen women during training. Although the Army is taking positive steps to ensure a friendlier environment, Aberdeen's pattern of harassment cannot be allowed to continue elsewhere. Closer supervision of Army facilities is essential.
At Aberdeen, officials filed criminal charges against three men and administrative charges against two more. The charges against the men range from sending inappropriate love letters to rape. It's possible that officials will press more charges - 15 other officers were placed on paid administrative duty as a result of the investigation. Such frequent discrimination could not have emerged at Aberdeen overnight.
An Army phone hotline, set up at Aberdeen last Thursday, already has fielded more than 2,000 additional harassment complaints, from Aberdeen and elsewhere. Other branches of the armed services are plagued by similar problems. For example, the Navy Tailhook scandal implicated 70 officers in the assault of at least 26 women. Machismo military culture appears to breed a disturbingly high incidence of criminal sexual conduct. The armed services must forge a new culture, one adapted to attain gender equity.
Often, in the armed services, women have no means to expose harassment without personal endangerment. In some cases, the danger is physical. One of the instructors at Aberdeen threatened to kill three trainees if they told supervisors he was having sex with them. More often, ambitious women are forced to endure sexual harassment to advance in rank - or at least to prevent stagnation or demotion. A woman, by turning down advances from a superior officer, risks receiving a poor performance evaluation. Furthermore, if she files a complaint against her supervisor to a higher officer, she will probably find the "good old boys" network very much alive.
Rear Admiral George W. Davis VI, the officer in charge of the Tailhook investigation, did not discipline Tailhook convention attendees because he believed the public would perceive such actions as a "witch hunt." In other words, he resents efforts to correct problems in a centuries-old military tradition.
Although the military forced Davis to resign because of these actions, his sentiments may mirror those of many officers. Any woman pressing sexual harassment charges could face a number of male officers who would deliberately hamper her advancement. To hold military sexual harassment in check, reform must start at the top.
All personnel, ranging from plebes to high-ranking officers, must receive comprehensive and ongoing gender sensitivity training. As of now, the military has received 56 complaints of sexual harassment involving Aberdeen. Armed forces supervisors must be held more accountable for their personnel. Just as important, lines of communication must stay open. Soldiers should feel free to report any sexual harassment incidents without fear of reprisals. Aberdeen and Tailhook display clear lack of institutional control - which means that the incidents are likely not isolated to one or two bases.
Sexual harassment traditionally has been intertwined with the military culture. As gender equity becomes the societal norm, the military, as evidenced at Aberdeen and Tailhook, has been slow to adjust. Although efforts such as the hotline show promise, the armed services must enact permanent measures. The institutional habit must be to assure that women receive their full constitutional rights.
11-14-96
FROM: http://www.usnews.com/usnews/issue/970310/10hara.htm
Did we say zero tolerance?
A legal dilemma over sexual harassment
BY RICHARD J. NEWMAN
When the Army chief of staff, Gen. Dennis Reimer, testified before the Senate Armed Services Committee in early February, he repeatedly cited the Army's policy on sexual harassment: "zero tolerance." Yet when he spoke the following week at the Army's training base in Aberdeen, Md.--which is at the center of the Army's ballooning sexual harassment woes--the phrase had disappeared from his rhetoric. Army lawyers had urged that it be omitted from remarks made to troops because "zero tolerance" could imply that the Army's top general had concluded that the soldiers accused of rape and sexual harassment were guilty.
The Army's intense, behind-the-scenes scrutiny of virtually every public remark its leaders plan to make reveals how it is trying to avoid the problems that wounded the Navy after the Tailhook scandal broke in 1991. Top Army officials know they must take an aggressive public stance against mistreatment of women in the ranks--to send a clear message to the ranks and to appease congressional inquisitors and the scandal-hungry media.
But the military justice system adds a major complication. The people who are the public face of the Army--mainly Secretary Togo West and Chief of Staff Reimer--are also at the top of the chain of command. Their words or deeds could interfere with defendants' right to a fair trial, as did behavior by Navy leaders during the Tailhook investigations.
"The worst thing would be to have a conviction thrown out [because of] unlawful command influence," says a senior Army official. Capt. Edward Brady, the military defense lawyer for Staff Sgt. Delmar Simpson--who is charged with raping seven women and abusive treatment of several others at Aberdeen Proving Ground--plans to raise this issue with the military court.
Cross-pressured. That's why Army leaders are being so careful. On his routine visits to bases around the world, Secretary West tries to avoid posts where investigations of sex-related crimes are going on, to limit his contact with commanders who have authority over pending cases. Legal constraints also affect how West, Reimer, and uniformed commanders perform one of their most important jobs: providing guidance and leadership to the troops. To lawyers, Reimer's Aberdeen speech may have been correct, but it didn't reinforce the stated policy of zero tolerance.
The Army's training manual for handling sexual harassment issues is the misadventure of the Navy in Tailhook, a case study of how an organization's leaders can interfere with legal proceedings and undermine public confidence. After Navy Secretary Lawrence Garrett learned of the lewd antics at Tailhook, he wrote a letter to the Tailhook Association, the private fraternity of naval aviators that sponsored the convention. He terminated all Navy support for the group's activities. According to a Tailhook post-mortem written by W. Hays Parks, a retired Marine Corps judge, Garrett acted before any investigations or criminal trials had run their course and "poisoned the legal well." The letter had the effect of making all naval aviators suspect, even if they hadn't been at Tailhook.
Poor handling of Tailhook so undercut the independence of investigators and prosecutors that after seven inquiries, no one was convicted by court-martial for a criminal offense. So Congress stepped up its pressure and offenders were given "administrative" punishments that seemed arbitrary to many sailors. The Navy's public image withered. By some accounts, its morale still suffers nearly six years later.
But Tailhook isn't the only precedent Army lawyers worry about. In the mid-1980s, the two-star general in command of the Army's 3rd Armored Division in Germany complained to subordinates about what he saw as a paradox: Commanders would recommend that a soldier be court-martialed for an offense and then testify on behalf of the accused soldier. The general's comments roiled his division's justice system. Convictions were overturned, sentences were reduced, and cases had to be retried.
Decent PR. So far, the Army's attention to Tailhook and other precedents has paid off in public opinion. The charges of harassment, rape, and other crimes by Army personnel are far more widespread and serious than were events at Tailhook, which were limited to one night and which mostly involved willing participants. The 7,300 phone calls to an Army hot line set up after the Aberdeen cases surfaced have generated more than 260 investigations of sex-related crimes at Army bases worldwide. Yet the media and members of Congress have been less critical of the Army.
Early evidence suggests that organization and staffing problems were factors in many of the alleged crimes. A task force set up to investigate the extent of sexual harassment and abuse found a hodgepodge of units at Aberdeen, the result of several rounds of base consolidation. Many unit commanders aren't based there, which causes confusion about where soldiers should turn for help.
The crisis hot lines and other outlets for complaints may have contributed to the Army's troubles. By providing a way around the chain of command, some Army officials argue, such measures may make the people in the chain less likely to notice problems and less practiced at handling them.
Traditionally, it has been the job of sergeants and junior officers such as company commanders to tend to the personal needs of troops; if necessary, they refer matters to their own superiors. Complaints rise one level at a time. But routine circumvention of this chain of command, says a senior noncommissioned officer, leads officers to spend less time attending to the needs of soldiers in their units, which weakens discipline. "It leads to hate crimes, sexual harassment, and other problems," he says.
The most divisive controversies may lie ahead. One of the Army's biggest challenges is to explain how commanders could have tolerated or not known the extent of sex-related problems. In surveys, 18 percent of the Army's women say colleagues have tried to coerce them into having sex; and 47 percent say they've received unwanted sexual attention. When the task force delivers its conclusions, expected in June, Army leaders will have to strike a balance between blaming commanders and letting them off the hook. The former could devastate morale; the latter would enrage critics. Precedent will be of little help: There is more case history in how to do it wrong than in how to do it right.
© Copyright U.S. News & World Report, Inc. All rights reserved.
FROM: http://detnews.com/1997/nation/9704/07/04070070.htm
Monday, April 7, 1997
Still recovering from Tailhook, Navy commissions co-ed warship
By Leslie Gevirtz / Reuter
ABOARD USS THE SULLIVANS -- Six years after the Tailhook scandal, the Navy is commissioning its first ship designed to accommodate both male and female crew members.
USS The Sullivans, named after five brothers who perished when their Navy cruiser was sunk during World War II, is an Aegis destroyer that its executive officer, Lt. Cmdr. Steve Davis, describes as "the Maserati of ships."
The four turbine engines aboard, the same as those used on a DC-10 aircraft, can propel the 505-foot, 8,500-ton vessel from zero to 30 knots in 90 seconds.
The engineer responsible for making sure those engines and other complex systems work is a nine-year Navy veteran, Lt. Esther McClure.
"I have never been treated with anything less than professionalism," said McClure, the senior woman officer on the ship and third-in-command. "It's all a question of what you bring to the table.
"If you're a competent professional, then that's how you're treated," said McClure, 34, who has served in the Pacific and in Desert Storm. "I look at this as a great opportunity. It's a chance to step up to the plate and feel like I'm very much a member of the team."
She supervises a crew of 60, including six women.
"Engineering is not typically something women do," said McClure, who has lived in many places around the globe, and considers Austin, Texas, home. But engineering is one career path officers can follow to get command of their own ship.
The Sullivans' commanding officer, Cmdr. Gerard Roncolato, served as an engineer early in his career.
"We've had women from the very beginning on this ship," he said, noting that McClure was the third person selected to be part of the 314-member crew three years ago.
The crew, which was training ashore near the Bath Iron Works factory in Maine where the steel-hulled vessel was built for about $900 million, has lived aboard The Sullivans since January. It sailed to the Naval War College in Rhode Island for further exercises last month and will be formally commissioned April 19 in New York.
"When Adm. (Jeremy) Boorda ordered the practice of sending women to sea accelerated, other ships were retrofitted, but this one was built with the assumption that women would be part of the crew," Roncolato said. "Here, they've become an integral part and it's worked out very well."
Just as the radar aboard continuously searches the skies and can detect a quarter tossed from small plane 250 miles away, the commander said he was vigilant about any sexual harassment or fraternization.
"We use the motto that the actions of one of us affect the lives of all of us, and that goes not just for gender issues, but all issues aboard ship," he said.
The Navy is still trying to recover from Tailhook, the 1991 scandal among naval aviators, which forced the chief of Naval Operations at the time into early retirement.
Since then, as more women have gone to sea, there have been reports of sailors becoming pregnant while serving aboard ships.
"This ship is too small," Roncolato said. "At one time or another, everyone is under everyone else's chain of command, so dating shipmates is not permitted."
While he, Davis and McClure have served aboard ships before, several enlisted personnel have not and the cramped quarters, whether for men or women, is something they are getting used to.
"It's been an adjustment," Yeoman Gail Choyce, 37, of Saginaw said of her quarters, which she shares with 17 other women. "There's one toilet, one shower and when reveille sounds, you just have to stand in line."
Copyright 1997, The Detroit News
Navy Officials Continue To Investigate Allegations of Tailhook Misconduct
By Tom Bowman and Del Quentin Wilber
THE BALTIMORE SUN -- WASHINGTON
The Navy is investigating allegations of misconduct at last week's convention of the Tailhook Association, the private naval aviators organization whose 1991 annual meeting dissolved into a drunken spree of debauchery and sexual assault, implicating more than 100 officers.
This year's Tailhook convention marked the first time the Navy had allowed its tops officers to participate since 1991.
Navy officials said Friday that a man and his wife, both civilians whom they refused to identify, alleged that several dozen people, not in uniform but believed to be part of the three-day convention at John Ascuaga's Nugget casino and resort in Sparks, Nev., verbally assaulted them as they tried to return to their hotel room shortly after midnight on Saturday. The man also charged that someone in the group made "inappropriate contact" with his wife.
"There was an exchange of words and they considered the behavior inappropriate," said a Navy official. "This was enough to warrant an investigation."
A Navy official said an unidentified admiral attending the convention apologized to the man the following morning, although the man believed it "was not a genuine apology" and the officer would "not do anything with the information."
The couple made the charges on Tuesday by calling the Navy's sexual harassment hot line, set up in the aftermath of the original Tailhook scandal, officials said.
Navy officials said the civilian couple, said to be from California, was not attending the convention. According to the complaint, the man and woman tried to return to their room on the hotel's third floor and the man asked the group to step aside. He then began "pushing past," officials said. The incident quickly escalated, with someone in the group touching the wife's buttocks, the complaint alleged, according to Navy officials.
The charges, even if true, are a far cry from the uproar that followed in the wake of the 1991 convention at the Las Vegas Hilton hotel. The ensuing scandal rocked the Navy and Marine Corps, casting a harsh light on the macho world of military aviators. The Defense Department's inspector general implicated 117 officers in a variety of offenses, ranging from sexual assaults to indecent exposure.
That convention led to the resignation of then Navy Secretary H. Lawrence Garrett and the early retirement of Adm. Frank B. Kelso, then the service's most senior officer. In addition, Navy leaders who had attended that convention were faulted for failing to stop the behavior. There were scores of disciplinary actions against the officers.
Ironically, the Navy this year renewed its official ties with the 10,600-member private association for the first time since 1991. In January, Navy Secretary Richard Danzig reached that decision after a panel of high-ranking Navy civilian and military officials attended the association's 1999 convention and conferred with its leaders about avoiding future misconduct.
This story was published on Saturday, August 26, 2000.
Volume 120, Number 34
Copyright and distribution information
Problems with Pilot Retention in the Post-Tailhook Armed Forces
This article is from former Commanding officer and flight leader, Navy Blue Angels, 1992-1994, Bob Stumpf's remarks at the Center for Military Readiness Conference, "The Culture of the Military" , at the US Capitol on October 21, 1998.
In his recent Proceedings article, Professor Mack Owens discusses the concept of philia, Greek for why a soldier willingly gives his life in battle, not for country or glory, but for his comrades. It is the essence of the warrior culture, a culture grossly misunderstood by our civilian leadership, and under attack by their socio-military experimentation.
This same leadership belatedly laments the wholesale flight of our mid-grade experienced pilots from Air Force, Marine Corps and Navy ready rooms. They blame it on excessive operating schedules, inadequate compensation and airline hiring. But Americans have rarely ever served in the military for monetary rewards. They join the service for altruism and adventure, knowing they may well have to work much harder for less pay than in a comparable civilian profession. That's why vastly increased flying bonuses have had virtually no effect on stemming the tide.
The retention problem is not restricted only to pilots, but personnel of many warfare specialties, thus mitigating the airline argument. As for the operating schedules, because of our long standing and very successful national security strategy, extended deployments are a necessary way of life for the US military. Deployment cycles have changed little over the decades since the second world war.
Even during the lean post-Vietnam years, when the military was in worse material shape than it is today, the warrior culture remained intact. Though we didn't articulate it as eloquently as Mr. Owens, we knew about philia. We were often outgunned by the Soviets on paper, but we were mentally and emotionally prepared to fight them, no matter how formidable. And we knew in our hearts there was absolutely nothing we wouldn't do for our wingman. It was a given. It was instilled in us at the Academy or in OCS or in boot camp. It was reinforced every day by the skipper and the department heads in the ready room. Every day. There was nothing we wouldn't do.
We didn't get bonuses in those days. And yes, the airlines were hiring. What the airlines couldn't offer, and still can't, is the incredibly profound esprit de corps found only in an elite fighting unit. A comradeship so powerful that it extended through us to our families so that my family and my wingman's family were somehow related even though we were on deployment thousands of miles away. It was really a wonderful phenomenon. It was at the heart of why we wanted to stay in the service. Together with the excitement, the patriotism, the ultra-professionalism, it created an atmosphere that we wanted to last forever. It certainly transcended material compensation and comfort. Even the long deployments away from home were balanced by the many intangible rewards. We were able to justify the hardships to ourselves and our families.
Quite simply, the essence of that warrior culture has been severely diluted in this decade. Politically inspired social edicts enforced since Tailhook '91 have rendered a ready room atmosphere so different now that it is nearly unrecognizable. The emphasis has shifted dramatically from how to administer death and destruction to the enemy, to how to "get along", and how to prevent killing each other in the air. Pilots are hampered in their ability to train as warriors by the policies of their senior leaders. They are faced with social experimentation and double standards in training. Experienced pilots are forced to qualify certain trainees who may or may not demonstrate established quality standards. This leads to distrust and resentment, two powerfully harmful factors in terms of unit morale, and thus military effectiveness.
Our core pilots perceive their civilian appointed leaders as inept in the ways of the warrior -- mere reflections of a president who misunderstands and disdains them; this commander-in-chief whose admitted misconduct would have him punished and removed in disgrace were he subject to the same standards of conduct as every military officer under his command. The pilots are disgusted by the uniformed leadership's unwillingness to stand tall for their subordinates, for purely political considerations. Future uniformed leaders are identified early and groomed in the political mode, rather than in the warrior profession of tactics, warfare proficiency and military strategy. This leads to more distrust and resentment as the anointed ones get the choice assignments to ensure their continued upward mobility. As the political proteges become senior leaders, the cycle is repeated. A new tradition of political uniformed leadership of the military is strengthened. Instead of an antidote to a civilian leadership unfamiliar with the military, we find a cohort.
In the face of the decline of the warrior ethos, military aviators no longer can justify the hardships of deployments and lack of compensation to their families. They turn down the lucrative bonuses and resign, leaving the inexperienced pilots to fend for themselves. Basic airmanship, so dependent on experience, suffers accordingly. These factors spawn symptoms such as poor showings on operational inspections and increased accident rates, blatant indicators of poor readiness and effectiveness. There are very few businesses more difficult and dangerous than flying a group of warplanes through a complex tactical exercise and returning it safely to base, especially if the base happens to be a warship. Without a foundation of experienced pilots, it is virtually impossible.
Recent administration comments regarding the impending pilot shortage reflect the party line that the exodus is due to strenuous deployments and airline hiring. Their solution is more bonuses. But pilots speaking candidly will cite as the most important factor in their decision to leave the service, not the lack of compensation or lure of the airlines, but a distrust of senior leadership. They lament leaving a profession they once considered noble, whose moniker of service was meaningful to them. They miss the old ready room and the very special relationship with their comrades in whom they could rely on for the ultimate sacrifice if necessary.
The flight of our military aviators has little to do with how much we pay them, and much to do with the decline of their cherished military culture and traditions. They will continue to be dissatisfied until their leadership's policies actively and definitively support a warrior approach at the squadron level; where tactical proficiency and innovation are rewarded; where social intimidation ceases to exist; where the ready room is once again an extension of the cockpit from a cultural perspective.
If we fail to reestablish an experienced cadre of warrior aviators in every squadron and air wing, we as a nation will feel the sting the next time we face a formidable adversary in battle.
Robert Stumpf, USN (Ret.)
September 14, 1998
Members of Tailhook put lascivious reputation in past
Associated Press
SPARKS -- The Tailhook Association is slowly making a comeback seven years after a sex scandal shamed members of the Navy aviators organization.
The group ended its annual convention Sunday, a G-rated affair at the family oriented Nugget casino in Sparks, just outside Reno. It was a far cry from the infamous 1991 gathering in Las Vegas, where dozens of women were allegedly groped and fondled by drunken active-duty Navy aviators.
Navy Lt. Paula Coughlin was awarded $5.2 million in 1994 after she sued the Las Vegas Hilton claiming it allowed unsafe conditions during the convention there. An appeals court upheld her award in 1997.
Tailhook members have since fought a tough, uphill battle back to respectability.
"This is the real Tailhook, not the `scandalous' one you've heard about," said Navy Cmdr. Sterling Gilliam, who serves at the Pentagon. "We just hope someday the public and the Navy will trust us when we say things have changed."
Things are getting better for Tailhookers. Although it may be years until the association is able to re-establish official ties with the Navy, membership has risen, lawsuits against the group have all been settled and aerospace companies have returned to sponsor the convention.
For the first time since the scandal, Boeing Co., Northrop Grumman, Raytheon, Rolls-Royce and Lockheed-Martin were back.
"Tailhook historically has been a good place to communicate with the fleet, a good sounding board for our products," Boeing spokesman Denny Kline said. "We believe they are returning to that place, and we want to join them."
No active-duty admirals were in sight over the weekend, but dozens of junior officers were among the hundreds who attended the convention. No Navy aircraft or vehicles are to be used to transport conventioneers to Tailhook, and the officers attend on their own time, per Navy policy.
Members' spouses were even encouraged to participate.
"We're not as radioactive as we once were," said Steve Millikin, editor of the association's glossy quarterly, The Hook.
Membership has recovered to 10,300 from a prescandal figure of 15,000. Of that figure, 35 percent are retired Navy personnel, 27 percent are on active duty and 38 percent are civilians.
Despite all the reforms, one thing the group has steadfastly refused to change is its name. A tailhook refers to the hook at the back of Navy aircraft that lets them land on an aircraft carrier by snagging a cable stretched across the deck.
Thomas Brown III, a retired rear admiral and Tailhook's chairman of the board, told members that changing the group's name would smack of "political correctness."
"We are tailhookers and always will be," Brown said to applause and cheers.
Tailhook also has taken steps to prevent the 1991 "gantlet" in which aviators lined a hallway outside hospitality suites and molested women as they tried to walk by. At Tailhook 1998, as with other recent conventions, the suites were spread throughout the hotel.
Las Vegas Review-Journal.- Nevada
Copyright © Las Vegas Review-Journal, 1997 - 2001
Donrey Media Group Privacy Statement
From: http://www.usni.org/Proceedings/Articles99/PROlinnekin.htm
Special Tailhook '99 Report
"They Looked OK When They Went by Me"
By Captain Richard Linnekin, U.S. Navy (Retired)
TAILHOOK (BARBARA WOODBURY)
In another time, another place, before the word "Tailhook" became part of the American vocabulary, I attended a professional gathering that became known throughout the land as the Tailhook Convention of 1991. I was dismayed at the way the event was reported subsequently and more than appalled at the official and unofficial reactions to various activities, real and alleged, attributed to some of those who attended the convention.
There is no question that naval officers committed some serious offenses. Certainly more than enough to justify a high level of investigative and prosecutorial zeal by authorities of various jurisdictions. It is also true that the concept of "innocent until proven guilty" got lost somewhere in the investigative shuffle, and the furor developed a life of its own. Even today, Tailhook references continue in stories about naval officers or Defense Department officials.
Twelve months later, I wrote an article to put into perspective what may have led to unacceptable behavior by commissioned officers of the Navy. I did not expect a rational view of the affair to make a difference, and I was right: It didn't. [See "Tailhook 1991 and Other Perplexities," Proceedings September 1992, pages 36-40.]
The word "tailhook" often is presented to the public in its more complete form: "Tailhook-where-dozens-of-women-were-sexually-assaulted-by- drunken-naval-aviators." A minor irony in a situation replete with ironies is that many Americans know the word, but still don't know what a real tailhook looks like.
Following the 1991 convention, the Navy Department discontinued official support of the Tailhook Association; unofficial contact with the organization also was discouraged. After eight years of corrective actions taken, of punishments levied, of unforeseen ramifications, and of unintended consequences, a time of resolution and reconciliation may be at hand. The prospect may best be expressed by the second paragraph of an August 1999 letter from Secretary of the Navy Richard Danzig to the President of the Tailhook Association:
As you well know, the shameful events at the Tailhook Convention of 1991 led to the withdrawal of our support of the Tailhook Association. Over the past eight years, however, the Association has taken a number of constructive steps that warrant a review of its status. These include adopting resolutions condemning harassment and honoring the 'services and sacrifices of all those who are . . . a part of carrier-based aviation.' To determine whether official support is now warranted, I need to assess the extent to which the Association lives by these principles and has the potential to reflect in its membership the character and profile of today's . . . and the future's . . . Naval aviation community.
The Secretary made it clear that he wants more than informal, word-of-mouth reports coupled with the absence of bad publicity to assure him that all is well in Tailhook-land. He dispatched Carolyn Becraft, Assistant Secretary of the Navy for Manpower and Reserve Affairs, Vice Admiral Michael Bowman, Commander, Naval Air Force, Pacific Fleet, and Lieutenant General John Rhodes, who commands the Marine Corps Combat Development Command, to observe the 1999 convention and report back.
Did we pass the test? Who knows? Least of all this observer. I was on the Hilton Hotel's third floor terrace on that now infamous Saturday night in 1991 at the same time some undesirable activities were going on in an inside hallway, probably only a couple of dozen feet away. After visiting several of the squadron suites . . . glass-sliding doors open to all visitors, lots of in-and-out traffic . . . and after observing the large, quiet crowd of mostly Navy and Marine pilots on the terrace itself, I remarked to my companion, one Diz Laird, longtime Tailhook Association officer and more longtime member of the Fighter Aces Association, something to the effect that: "These guys are not only in better shape than we were, they don't appear to drink as much." After I got home, I repeated the remark to my wife. After the uglier aspects of the affair hit the press, she fixed me with a steely stare and asked: "And just what convention did you attend?"
All this demonstrably lousy prognosticator can offer with regard to Tailhook '99 is observations. My preliminary grade is: "OK, three wire!"
"Naval aviators clean up their act" read the headline for an article on the front page (above the fold) of the second section of the Reno Gazette-Journal of Saturday, 21 August 1999, two days into this year's convention. The article, essentially a supportive interview with Captain Lonny McClung, Tailhook president, was friendly. Only a start, perhaps, but better than most alternatives. An article in a paper serving the small market Reno-Sparks area is unlikely to reach a large audience or to change many minds. It is nonetheless refreshing to see in print facts relating to Tailhook from the viewpoint of the other side; for supporters of the Tailhook Association, call it "our side." Some of those facts may bear repeating.
At the time of Tailhook '91, association membership was about 16,000, distributed about equally among active and retired officers and interested civilians, including a significant contractor constituency. After Tailhook '91 and the Navy's severance edict, membership dropped below 9,000. It is now about 10,500 and climbing. After the association was almost literally thrown off the base at Naval Air Station Miramar, California, and concurrently found itself facing a number of legal actions, its survival was in serious doubt. Fearing retribution by the Defense Department, contractor members bailed out in droves. Survive the association did, however, thanks in large part to loyalist retirees from both the military and civilian communities.
There was no convention the following year. In 1993 and 1994, however, the association rallied and held conventions in San Diego; the 1995 convention moved to the Nugget hotel-casino in Reno, where it has since been held annually.
Most of the attendees at the '91 post-Desert Storm gathering had come and gone and left without being aware of anything untoward; like me, they went home to learn about it from the media. The critical abuses: sexual harassment, general offenses against good order and discipline, and the probable violation of laws against indecent exposure were for the most part confined to a single night. They were of relatively short duration and involved a relatively small number of people. Except for the subsequent debacle, the media frenzy, and an unhappy variety of unforeseen consequences, the convention was a roaring success. Some exception--right up there with, "Aside from that, Mrs. Lincoln, how did you enjoy the play?"
Part of what the organizers accomplished in 1999 was because of renewed industry participation. The organizers could not recreate the celebratory aura of a war recently won, but they did well with what they had.
There were 25 exhibits in a main room with an overflow of perhaps a dozen more in an adjacent room. There were Navy and Navy-related exhibitors, such as the Skyhawk Association and the Forrestal (CV-59) aircraft carrier museum, but the most impressive and elaborate were those of the primary contractors and sub-contractors for the ongoing Joint Strike Fighter (JSF) competition.
What's the big deal with contractor participation? Why should anyone care? The same might be asked of the Tailhook Association. Why should anyone bother, least of all the Secretary of the Navy? The first paragraph of Secretary Danzig's letter contains a partial answer:
Private professional organizations provide valuable support to the United States Navy and Marine Corps. They promote professional dialogue, esprit de corps, and public education about the Department of the Navy's important role in our national defense. In turn, the Department of the Navy provides these organizations with various kinds of support.
Other private professional organizations in the context of the Secretary's words include the Naval Institute, Navy League, Association of Naval Aviation, and the Fleet Reserve Association. The Tailhook Association is different in that it was formed by naval officers as an informal celebration of a unique aspect of their profession: they take off from ships at sea before they can enter combat; after combat, each aviator must find that singular ship and land safely aboard. There are no greenie points awarded for the degree of difficulty in getting to the battle or for special problems in getting back to the floating base and landing safely. The payoff resides in being better than the other guy once one gets to the fight. Historically, the core of the association has been active-duty naval aviators and air crews. Also, the segment of the private sector that manufactures carrier aircraft, power plants, avionics, propellers, etc. has been actively represented.
Dating from World War II, it has been customary for contractor service representatives to accompany new equipment, developmental equipment, or simply equipment deployed in large numbers. In the carrier Navy, this includes airframe manufacturers' representatives assigned to carrier air wings, in ones and twos afloat and ashore. The relationship is a close one. Most of the writer's operational experience was in Grumman airplanes, and our Grumman service representative became an ex-officio member of the squadron--almost family. When we deployed, he deployed. If a ship, squadron, or base got shot at, so did he.
The manufacturer's rep provided specialized knowledge of his company's airplanes, invaluable for squadron maintenance. He provided timely information of incipient or chronic problems to the manufacturer, providing a parallel channel to the official Navy's. The result was a marvelous synergism, beneficial to the Navy and to industry. It still is. System and sub-system manufacturer's reps for products such as engines, avionics, or major components (propellers, in my early days at sea) did the same thing except that because of their fewer numbers they toured their territories like circuit riders.
With the sophistication of today's weapon systems, it is unlikely that relations between a carrier air wing and service representatives are materially different.
Support from colleagues in industry today is real and valid. In joining us in support of carrier aviation, they are sincere. They also are in business, a very competitive business today as evidenced by the small number of surviving airframe contractors. The unscrupulous, venal contractor who preys on the U. S. military for fiscal gain at the expense of national interest and individuals' careers is a figure of fiction. Yesterday's fiction. Competition for an airplane contract today is a one-strike ball game. It has been for most of the post-Korean War period. One missed swing and you are out.
The Boeings and Lockheed-Martins who showcase proposals and share views at a Tailhook convention know better than to expect that junior and middle-grade aviators have any influence on the selection process. Those junior- and middle-grade officers do, however, represent the user, the pilots and naval flight officers who will fight the new airplane against an enemy. They know what is combat useful and what is not. That represents feedback that contractors need in order to refine proposals, to enhance their competitive chances, and ultimately to provide a superior product to the U. S. military. That is a good thing: a synergism not different from that described above. Everybody benefits.
The United States won two world wars because of the performance of the U. S. armed forces in concert with the performance and output of U. S. industry. Admiral Isoroku Yamamoto of the Imperial Japanese Navy, who had served in the United States before World War II, understood that; he knew that a short war was the only war Japan could win. A recurring comment by defeated German Wehrmacht soldiers in Europe reflected amazement at the quality and sheer quantity of stuff Americans brought with them to fight the war.
On Saturday morning at this year's convention, the two prime contractors for the Joint Strike Fighter (JSF), Boeing and Lockheed Martin, described their proposals. Boeing also delivered an optimistic status report on the F/A-18E/F. Raytheon TI presented its family of stand-off weapons, both air to air and air to ground. Newport News Shipbuilding discussed near-term projections and long-range concepts for new aircraft carriers. This year's convention theme was "Naval Aviation in Space," and NASA offered a status report on space systems with emphasis on repercussions for the next generation of astronauts. The principal speaker at the Saturday night banquet was Mercury-Gemini-Apollo astronaut Captain Wally Schirra, U.S. Navy, (Retired).
Traditionally, the final--and best-attended--event of a Tailhook Symposium is a panel discussion with senior active-duty naval officers. That means admirals in slacks and sports shorts, signifying no-holds-barred nature of questions to come. Tailhook '99 followed the tradition with a difference. In this probationary year, the panel was split almost evenly among carrier skippers and air wing commanders: the high end of the operational types. No one on the panel was senior enough to influence changes in policy, and the result was that the easy-to-ask-hard-to-answer questions that make flag officers wish they were somplace else--like the one on the possibility of female aviators flying from carriers did at the '91 convention--did not get asked. The mood seemed to be: "CAG knows the problems. He's trying to change what needs changing. Why ask what he can't answer?" Same for the carrier skippers. Maybe next year the flag panel will return?
Prepared statements from the panel addressed the usual suspects: long deployments, short turn-arounds, increasing commitments with diminishing assets, shortages of people in critical ratings, shortages of spares and operating funds, short deployments for weapons training and carrier refreshers that chew up large chunks of shore-based inter-deployment time, resulting in yet more time away from family.
Based on that short list, it is difficult to process the optimism of the panel. A distillation of major complaints might go like this: (1) The principal cause of people leaving the Navy/Marine Corps is long and frequent separation from family. (2) Parts shortages, limitations on operating funds, and limited aircraft availability (having the right number of actual, flyable airplanes) are restricting flight and training time to the point that basic airmanship and combat readiness suffer.
The panel nonetheless was high on the performance of the men and women manning the carriers and air wings.
One of the highlight of Tailhook '99 was the informal mixer on Friday night with flight jackets and flight suits encouraged. I confess I felt self-conscious wearing a leather flight jacket with the outside temperature in excess of 90°. Had I not worn my piece of out-of-date flight gear, however, I would have been conspicuous.
The convention dates had been rescheduled to coincide with Carrier Air Wing-7's training deployment to nearby Naval Air Station Fallon. With permission granted by the Navy Department, the question was: How many active aviators would attend? "Nearby" is relative. It is not exactly next door to Sparks/Reno.
Initially, I saw mostly retired folks--not exactly a Gathering of Old Men, but not many young faces. I saw lots of wives, too, since the Association has lately been encouraging members to bring their spouses. Many attendees were of the Vietnam era and earlier, a time of fancy, tailor-made flight suits. A surprising number still fit. Calendar years were roughly identifiable by color and tailoring details. When was the last time you saw a yellow and black flight suit? With bell bottoms?
In time, the first of a virtual sea of green flight suits arrived. The room came to life. Green flight suits could seen in animated conversations with faded khaki flight jackets and gaudy flight suits--and with Bowman, Becraft, and Rhodes. Contractor and Navy exhibits got plenty of attention. The favorites were Boeing's flight simulator, Kesmai Corporation's Air Warrior 3 video game, and Lockheed Martin's JSF vertical-launch model--complete with sound effects.
Perhaps it was nothing more than a fresh start--but it was a good one.
Captain Linnekin, a naval aviator, wrote Eighty Knots to Mach 2: Forty-Five Years in the Cockpit, published by the Naval Institute Press.
Privacy Statement
All items on this article copyright 2001 U.S. Naval Institute, Annapolis, Md., unless otherwise indicated.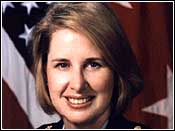 Lt. Gen. Claudia J. Kennedy
Kennedy reportedly went to the Army inspector general
with her complaint about Army Maj. Gen. Larry G. Smith
after the announcement that he was being promoted.
Army Verifies Sexual Harassment Charge
Highest-Ranking Woman's Allegation Is Substantiated
The Accused Could Face Disciplinary Action
WASHINGTON, May 11, 2000
(AP) A charge by the Army's highest-ranking woman that she was sexually harassed by another general has been substantiated by Army investigators, senior defense officials said Thursday.

The finding, in support of an allegation by Lt. Gen. Claudia J. Kennedy against Army Maj. Gen. Larry G. Smith, will be reviewed by the Army's vice chief of staff, Gen. John Keane, who will determine whether to take disciplinary action against Smith. Keane also could ask the investigators to look further into the incident, which happened in 1996, and resubmit their report, officials familiar with the case said.

Officials would discuss the matter only on condition of anonymity, reflecting the sensitivity of the matter.

The Army has refused to comment publicly even to confirm Kennedy made an allegation or that Smith is the accused.

"The Army will not comment on stories which speculate about administrative investigations," Maj. Gen. John G. Meyer, the Army's chief of public information, said Thursday. "Inspector-general investigative procedures are designed to encourage candor and protect the individual privacy of all parties."

Kenneth Bacon, spokesman for Defense Secretary William Cohen, also declined to comment, saying it was a matter for the Army.

The Washington Post reported Thursday that Smith probably will receive a reprimand and be forced to retire if, as expected, the Army inspector general's findings are accepted by Keane. Smith will be provided a copy of the findings and be given time to offer contrary evidence, officials said today.

A reporter's phone call to the office of Smith's military lawyer, Army Lt. Col. Robert Teetsel, was not returned.

The exact behavior of which Smith is accused has not been made clear. The Post reported that the inspector general found that Smith tried to kiss Kennedy, and that Army officials do not view this as actionable under the Uniform Code of Military Justice.

Smith, who is married, was announced last August as the next deputy inspector general of the Army, a position in which he would be responsible for overseeing investigations of the kind of behavior he is accused of. His status had been on official "hold" since last November, and he is assigned to the Army's Materiel Command in Alexandria, Va.

Kennedy reportedly went to the Army inspector general with her complaint about Smith after the announcement that he was being promoted. The Post reported that Kennedy had hoped to save the Army embarrassment by pursuing the matter discreetly.

Since the case became public in March, neither Kennedy nor Smith has been willing to discuss it publicly.

Army officials said today that Kennedy had no comment on news reports of the inspector general's findings.

The Post said investigators found that while Kennedy did not make a formal complaint of sexual harassment at the time of the incident, she described it to friends and colleagues soon after it occurred. Investigators found the supporting accounts by Kennedy's friends and colleagues to be persuasive.

Kennedy, the Army's deputy chief of staff for intelligence, is due to retire in June.

Copyright 2000 The Associated Press. All Rights Reserved.


Saturday, August 26, 2000
Navy probing allegation of misconduct at Tailhook convention
WASHINGTON (AP) -- Just when the Navy had restored ties to the Tailhook Association of naval aviators, it is facing a new allegation of "inappropriate conduct" by service members attending a Tailhook convention in Nevada last week.
Though much less sensational than the 1991 Tailhook sex scandal that shook the Navy at its highest levels, the latest allegation has triggered a probe by the Navy's inspector general, officials said Friday.
Details were sketchy and the Navy would not release the name of the person who made the complaint.
In a brief written statement, the Navy said it is looking into an allegation of inappropriate conduct by a group of service members during an encounter in the Nugget Hotel in Sparks, Nev., with a civilian couple who were staying at the Nugget but were not attending the Aug. 17-20 Tailhook convention.
The Navy's chief spokesman, Rear Adm. Steve Pietropaoli, said the Navy would not release the name of the individual who lodged the complaint on a telephone hot line that had been set up after the 1991 incident. He also would not say what day the alleged incident took place. He said it came to the Navy's attention "early this week."
Pietropaoli said the man reported that he and his wife were in a crowded hallway in the hotel and that when the man asked the people -- apparently service members attending the convention -- to make room for the couple to pass, "inappropriate comments" were made to him and his wife.
The man also reported that someone in the group made inappropriate physical contact with his wife, although Pietropaoli was not more specific.
Navy spokesman Cmdr. Greg Smith said the man who lodged the complaint said a senior Navy officer apologized to him in person, but the man considered it to be "not sincere." The senior Navy officer, who was not identified by name, was at the hotel but not present during the confrontation, Smith said.
Smith said the circumstances of the apology, made the day after the alleged incident, will be part of the inspector general's investigation.
At the Nugget Hotel, spokesman Mike Greenan said a "noise and profanity complaint" was made last Friday night by a civilian couple staying at the hotel. "Security investigated it, got everybody cleared out of the hallway," he said, adding that he was not certain this was the same incident as reported by the Navy.
Sparks Police Sgt. Sherman Box said the department received no reports from or calls to the Nugget in connection with Tailhook.
Lonnie McClung, a retired Navy captain and president of the Tailhook Association, said in a telephone interview Friday that his organization was surprised to hear about the complaint.
"As far as we knew the guys were fairly well behaved," he said. "This taints it a little bit."
McClung said he had no information to confirm the allegation, which he said was made on Tuesday. He said there were about 1,200 military members among the 2,000 who attended the convention and that hotel officials told him there were only two noise complaints during the four-day convention, both on Aug. 18.
McClung said he did not believe the incident, if verified, would affect his group's relationship with the Navy.
"If this was Navy people involved, it's a Navy issue," McClung said. "The Navy should deal with it the way they see fit."
Sen. Olympia J. Snowe, R-Maine, took a different view. She said Friday that if the allegation is proven true the Navy should withdraw formal recognition of the Tailhook Association, which she said would have been shown to exhibit a "chronic disregard for human dignity."
Just this year the Navy restored full ties to the association, and last week's convention in Sparks was the first time Navy and Marine Corps aviators were officially sanctioned to attend the convention since 1991.
All Contents ©Copyright 2000 News Tribune Co. All rights reserved.
New Tailhook Complaint Unfounded
Couple Had Alleged 'Inappropriate Comments,' Contact Made But They Refused To Sign A Complaint, Police Say Navy Investigation Found No Basis For Sex Harassment Charge

WASHINGTON, Oct. 31, 2000

(CBS) Navy investigators found no basis for a sexual harassment allegation against service members attending an August convention of the Tailhook Association, Navy officials said Tuesday.

The alleged incident took place during a late-night encounter in the Nugget Hotel in Sparks, Nev., with a civilian couple who were staying at the hotel but were not attending the naval aviators organization's Aug. 17-20 convention.

The man who brought the complaint, whose identity was not released, reported that he and his wife were in a crowded hallway in the hotel and that when they tried to pass Tailhook conventioneers — apparently Navy fliers — "inappropriate comments" were made to him and his wife.

The man also reported that someone in the group made inappropriate physical contact with his wife.
The couple refused to be interviewed by the Naval Criminal Investigative Service, Navy officials said.

The Los Angeles Times reported in its Tuesday editions that the Sparks Police Department said the couple declined to sign a formal complaint or be interviewed after being told that the alleged incident had been captured on a hotel security camera.

Navy Secretary Richard Danzig told reporters Monday during a visit to California that Navy investigators found no evidence to substantiate the harassment charge.

Danzig said he saw no reason, therefore, to limit the Navy's relationship with the Tailhook Association, which sponsors professional seminars as part of its annual conventions.

CBS News Reporter Tom Fotey says while apparently less sensational, the case recalls the naval aviators organization's 1991 convention, which created a sex scandal that forced the resignation of the Navy's civilian chief and focused attention on sexual harassment throughout the military.
The 1991 convention featured scandalous episodes of drunken debauchery, property damage and sexual assaults. Afterward, the Navy severed its ties to the group. Just this year the Navy decided to resume sponsoring active-duty Navy and Marine Corps aviators' attendance at the annual gathering, which is a combination of aviation seminars, industry exhibits, parties, banquets and outdoor activities.

The Tailhook Association is named for the hook on an aircraft that snags an arresting cable on the landing deck of an aircraft carrier. As of last year, it had about 10,000 members, down from a 1991 peak of about 16,000.

©2000 CBS Worldwide Inc. All Rights Reserved. This material may not be published, broadcast, rewritten, or redistributed. The Associated Press contributed to this report.
Navy May Break Ties With Tailhook
The Navy could again break ties with the Tailhook Association if an investigation shows misconduct at the group's most recent convention.
Earlier this year, Navy Secretary Richard Danzig restored Navy ties for the first time in nine years with the association of retired and active Naval aviators on the condition that members behave themselves.
That agreement was tested last week when the Navy announced it is investigating a married couple's allegation that they were verbally and physically harassed by a group of aviators in a hotel hallway Aug. 19. The 10,000-member Tailhook Association held its annual convention Aug. 17-20 in Reno.
Cmdr. Brian Cullin, a Navy spokesman, acknowledged that if the allegations are found to be true, it could end the Navy's relationship with the group.
For the first time since the group's notorious gathering in 1991, the Navy officially supported the Tailhook convention this year. In restoring ties, Danzig said Tailhook must:
Focus on professional development. Become more inclusive. Commit itself to preventing misconduct similar to problems that occurred in 1991.
"Those are critical elements," Cullin said.
He said, however, that it would be premature to speculate about the Navy's future relationship with the association until the investigation is complete.
This year, the Navy sent top commanders back to the convention and gave its blessing to active-duty personnel to attend.
The Navy broke ranks with the Tailhook Association in 1991 after a number of women, including several Navy officers, were allegedly groped at the group's convention. After the 1991 gathering, the annual convention was portrayed as a drunken bacchanalia that had gone unchecked by senior commanders for years.
The name Tailhook is derived from a device that catches Navy airplanes when they land on aircraft carrier decks. The group is one of three large professional associations for Navy officers.
The Navy has spent a decade trying to heal deep wounds to its reputation as a result of the 1991 convention, which makes the current allegations so troubling to the Navy.
The head of the Tailhook Association, retired captain Lonny McClung, said he believes that the Navy's investigation will exonerate his organization.
"Obviously this is of great concern, but we're not afraid of the truth in this one," McClung said.
Mike Greenan, spokesman for John Ascuaga's Nugget Casino Resort, the site of the Tailhook convention, said a couple staying there made a complaint to hotel security early on the morning of Aug. 19. However, Greenan said the couple complained only of loud noise and profanity.
The Navy is investigating a more serious allegation that the woman was harassed by a group of men and touched inappropriately by one. That complaint was phoned into a Navy hotline by her husband, who was staying with her at the hotel.
The Navy has not yet interviewed the couple.
Tailhook Ties May Be Restored
Tailhook May Regain Ties
Group May Have Formal Relationship With Navy
A Navy crewman on board the USS Constellation aircraft carrier tends to F-14 Tomcat fighters. The Navy is considering a renewal of its formal relationship with the Tailhook Association, eight years after a convention resulted in assault charges.
By Barbara Starr
ABCNEWS.com
W A S H I N G T O N, Aug. 11 — Eight years after a Las Vegas convention of drunken naval aviators catapulted the name "Tailhook" into the national spotlight, the U.S. Navy says it may be ready to re-establish formal ties with the organization.
Navy Secretary Richard Danzig told the president of the Tailhook Association, retired Navy Captain Lonny McClung, that the Navy will send three officials to the upcoming Tailhook convention in Reno, Nev., Aug. 19-22 to determine if the organization really has changed. If those assurances are given, then the Navy will renew its formal support of the organization.
The name "Tailhook" comes from the arresting device used on the decks of aircraft carriers to catch the "hook" of landing aircraft. All of the military services have ties and support for trade associations and societies of retired members as a means of maintaining public support.
Women in Naval Aviation
Enlisted personnel in aviation ratings: 6,322
Total women pilots: 238
Total naval flight officers: 103
Student pilots: 117
Student naval flight officers: 75
Total student aviators: 192
The Tailhook Association — a private association of formal naval aviators — has an estimated 10,000 members. For years it had been well known in the Navy that the annual Las Vegas convention was a forum more for revelry and consumption of alcohol than being a meeting to exchange professional information.
Officers Implicated After Convention
But in 1991 the convention spun out of control. Female officers and other women formally complained of being groped and fondled. More than 80 women reported being harassed or assaulted.
At that time, the Defense Department's inspector general implicated more than 100 naval officers in the events that surrounded the September convention. However, public outrage grew when nobody faced military charges. The Navy secretary eventually resigned and the chief of naval operations left his job early.
The Navy is making it clear that it wants the Tailhook Association to fully include women in its membership and not tolerate the actions that took place in 1991. In a letter to McClung, Danzig said "the Tailhook Association must provide opportunities for significant enrichment for all its members by focusing on the professional challenges and opportunities facing naval aviation."
S U M M A R Y
The Navy may restore its ties with the Tailhook Association, eight years after 80 women complained of harassment or assault at the group's convention.
Copyright ©1999 ABC News Internet Ventures
THE 1999 CONVENTION
FROM: http://www.reporternews.com/1999/opinion/tail0826.html
Thursday, August 26, 1999
Lessons from Tailhook affair cut both ways
The Tailhook Association had its annual convention this past weekend, and if the thought makes you shudder, it shouldn't. From all reports, the meeting was tame and sober, an occasion for fellowship, reminiscence and golf. It was a far cry from the 1991 Las Vegas convention when some drunken pilots engaged in sexual misconduct and after which some feminist groups and some politicians reacted very nearly as if the pilots had been caught bombing their own land.
The groping, nudity and other wild behavior at that convention eight years ago cannot be excused by the fact that the offenders were men who routinely put their lives at risk for their country. But their excesses were less than those who relentlessly pursued them as if in a holy cause, and a number of those zealots, of course, had never risked anything at all to serve the common good.
When all the moralistic whooping was done, some 171 officers faced charges and roughly half of them ended up paying penalties. The worst penalty was that these men thereby had their careers ruined. In fact, many Navy and Marine pilots who were accused of nothing — men who were merely present — saw their careers come to an inglorious end. The Navy stuck by the officers for a while and maybe for the wrong reasons, but then, fearing it would be weakened by the unending cries of insensitivity, fled the battle — and all sense of fair play.
What makes all of this particularly galling is that, in the intervening years, many of those who excoriated the officers have been amazingly resourceful in excusing a president who likewise has been accused of unwanted sexual advances and who ultimately admitted that he had sexual relations with a subordinate half his age. This same president has been accused of criminal sexual conduct, and while that accusation has scarcely been demonstrated, neither were many of the accusations against the men whose highest aspirations were wrecked because of the Las Vegas convention.
As this latest restrained Tailhook convention showed, the officers have learned a lesson from the past. It is to be hoped that the American people have learned a lesson, too, namely that politicians and public-policy advocates who express moral outrage are sometimes motivated more by political ideology than any clear or balanced view of right and wrong.
Copyright , Abilene Reporter-News / Texnews / E.W. Scripps Publications
FROM: http://www.house.gov/maloney/press/106th/20000120tailhook.html
January 20, 2000
For Immediate Release
STATEMENT BY CONGRESSWOMAN CAROLYN MALONEY ON THE NAVY DECISION TO RESTORE TIES WITH TAILHOOK
NEW YORK – After learning last night that the US Navy has decided to restore full ties to the Tailhook Association, the naval aviators organization that gained attention in 1991 for a slew of scandalous acts of sexual harassment waged against female officers during their Las Vegas convention, Congresswoman Carolyn Maloney (D-Manhattan, Queens) released the following statement:
"None of us knows the specifics about how the Navy reached its decision to restore ties with Tailhook. I am hopeful that this was a sound decision, but also concerned. I think it is critical that the Navy ensures that Tailhook is a comfortable place for women. I am still very worried that the military has not learned its lesson about the importance of addressing the problems of sexual harassment within the ranks. The scandal of Tailhook should have taught everyone involved that we must address the issue of sexual harassment before such egregious acts occur. But as far as I am concerned, the jury is still out on whether there has been a sea change in the military."
Maloney also plans to send a letter to the Navy asking for permission to attend the first Tailhook Association convention, to see firsthand if reforms are being implemented.
Congresswoman Maloney (D-NY) is the Democratic chair of the Congressional Women's Caucus. Since being elected to Congress, Maloney has fought hard to ensure that women in the military have greater protection from sexual harassment and rape and also have a fair shot at equal treatment in the US armed services.
Tailhook Trial and Settlement
Lt. Paula Coughlin, an admiral's aide and helicopter pilot in the United States Navy, sued the Hilton Hotel for failing to provide adequate security against the sexual harassment at the Tailhook Convention in Las Vegas, a gathering of U.S. naval officers.
She also sued the Tailhook Association, which settled out of court.
The charges of sexual misconduct at the Tailhook Convention ended the careers of several Navy officers, and resulted in changes of policy within the U.S. military.
Contributed by:
Jone Johnson Lewis
March 23, 2001
From: http://braden.infi.net/content/bradenton/2001/03/24/home/0324nation_f2.htm
03-24-2001
Couple sues Tailhook over sexual harassment
Donna Heley drives her pickup as her family's pet Canada goose, Bubbles, flies along outside the window Wednesday near Mantador, N.D. The goose tags along on short trips and can keep up with the truck as speeds approach 60 mph.
Couple sues Tailhook Association for alleged sexual harassment
husband and wife have sued the Tailhook Association and a Nevada hotel for alleged sexual harassment during the naval aviators' convention last August.
Navy investigators have said they found no basis for the allegations, but the couple's lawyer said that would not hinder the suit filed Thursday in San Francisco Superior Court.
"The Navy's interested in performing an investigation that clears all their personnel," attorney Martin Glickfeld said.
The association had not been served Friday with the suit, executive director J.R. Davis said.
"We kind of thought this was all over and done with because of the investigations," he said.
Cynthia and Kenneth Ridenour claim they were verbally harassed and she was groped by convention participants when they returned to their Nugget Hotel room, which was on the same floor as the convention.
They said conventioneers pounded on their door and made countless phone calls to the room throughout the night. The couple said they reported the disturbances to the hotel, located in Sparks, but employees did nothing.
The couple is seeking $10 million in punitive damages.
Tailhook
What is a Tailhook?
The contraption on a naval aircraft that hooks on to the 3 wire (ideally) when landing on a carrier.
Who are the Tailhook Association
An Association that is: Dedicated to foster, encourage, study and develop support for the aircraft carrier, carrier aircraft and their air crew of the United States of America, in their appropriate role in the Nation's defense system,
you can write to them at:
Tailhook Association
9696 Businesspark Ave.
San Diego CA 92131-1643 USA
Phone 1-800-322-4665
(619) 689-9227
Visit the Tailhook Association Home Page
BOOKS:
Office of the OSD Inspector General. The Tailhook Report: The Official Inquiry Into The Events Of Tailhook '91. N.Y.: St. Martin's Press, 1993. 250 pp. Bibliographical references. $10.95 (paper), ISBN 0-312-10392-8.
The Mother of All Hooks: The Story of the U.S. Navy's Tailhook Scandal - McMichael, William H. New Brunswick, N.J.: Transaction Pub., 1997. 337pp. $32.95
United States. Congress. House. Committee on Armed Services. Gender Discrimination in the Military. Washington, DC, GPO, 1992. 128 p. (102nd Congress, Second Session, hearings held July 29-30, 1992.)
United States. Congress. House. Committee on Armed Services. Honor Systems and Sexual Harassment at the Service Academies. Washington, DC, GPO, 1994. 256 p. (103rd Congress, 2nd Session, hearing held February 3, 1994.)
United States. Congress. House. Committee on Armed Services. Sexual Harassment of Military Women and Improving the Military Complaint System. Washington, DC, GPO, 1994. 276 p. (103rd Congress, 2nd Session, hearing held March 9, 1994)
Weinstein, Laurie Lee. Wives and Warriors: Women and the Military in the United States and Canada. Westport, CT, Bergin & Garvey, 1997. 252 p.
Sexual Harassment in the Army Tailhook: Deinstitutionalizing the Military's "Woman Problem"
Zimmerman, Jean. Tailspin: Women at War in the Wake of Tailhook. New York, Doubleday, 1995. 336 p.
WOMEN IN THE ARMED FORCES BOOKS AND DOCUMENTS
WOMEN IN THE MILITARY - GOVERNMENT DOCS
TAILHOOK: SHE STOOD ALONE
THE MOVIE
NATIONAL DEFENSE ACT - 1994
Senate Debate
U.S. NAVAL INSTITUTE PROCEEDINGS - 1997
THE PROFESSIONAL MILITARY ETHIC
APOLOGY FROM THE GOVERNMENT

Uniform Code of Military Justice
Primary Resources from Cornell Legal Information Institute
U.S. Court of Appeals for the Armed Forces
Gulf War Synrome
Office of the Special Assistant (Dept. of Defense)for Gulf War Illnesses.
Service Members Legal Defense Network
legal aid organization that assists service members hurt by the Don't Ask, Don't Tell, Don't Pursue policy.
Part I of the Inspector General's Tailhook Report
Part II of the Inspector General' s Tailhook Report
Tailhook '91: Women, Violence, and the U.S. Navy
- paper on the Navy & Sexual Harrassment By Frances K. Pohl.